KARACHI: Muttahida Qaumi Movement Pakistan leader and Karachi Mayor Waseem Akhtar was released from central jail on Wednesday, after a court granted him bail in all cases. Meanwhile seven MQM-London activists were taken into detention and will be presented to courts today.
Waseem Akhtar following his release from jail reached Mazar-e-Quaid and addressed media personnel.
"We respect the mandate given by people of Karachi," he said.
Akhtar said that he would do everything for betterment of people in Karachi.
He demanded from the government that local bodies should be given authority necessary to run affairs of the city.
Earlier, MQM Pakistan leaders and a huge crowd of party workers reached the central jail to welcome him. Supporters showered rose petals on Akhtar, who made victory signs after his release.
In the morning, an anti-terrorism court approved Karachi mayor Waseem Akhtar's bail against a surety bond of Rs500,000.
The mayor received bail in all 39 cases against him, including facilitating hate speech, involvement in May 12 riots, and abetting the treatment of terrorists.
The last case was related to the mayor's alleged involvement in treatment of terrorists at the former petroleum minister Dr Asim Hussain's hospital.
Pakistan People's Party leader Abdul Qadir Patel was also released on bail.
The court ordered both politicians to hand over their passports. Akhtar was arrested on July 19.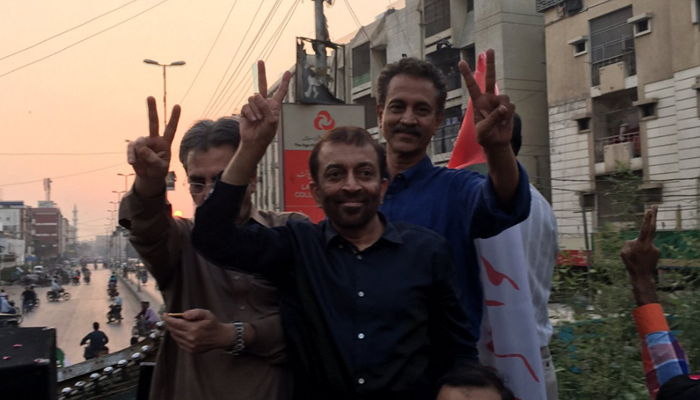 Picture - Faisal Sabzwari Twitter
Will write a book on jail ordeal: Waseem Akhtar
Speaking to Geo News, the mayor said that he will write a book about time he spent in prison. "Time spent in the Karachi and Adiala jails was the worst in my life."
He said he will withdraw his salary from the bank. "All the bail money was covered through loans from friends," he said.
Waseem Akhtar's wife expressed her joy. "Those who filed fake cases against him should also be investigated," she said.
Earlier, Deputy mayor Arshad Vohra said that Akhtar will also pay his respects at the Shuhada graveyard and then visit the MQM-P's temporary office in PIB Colony.
"His office his ready. We are waiting for him. Together we will restore lights to this city," he said.
MQM-P leader Khawaja Izhar ul Hassan said that he was sure that only the courts could give them justice. "One Waseem Akhtar has been released. Several others are still in jail."
He said that all of Pakistan wants development in Karachi and for giving powers to local bodies was essential. "If local bodies representatives do not get rights we will hold protests and also approach the court."
He added that doors for MQM-P were always open for former governor Ishrat ul Ebad and former president General (Retd) Pervez Musharraf.