A PIA plane carrying 47 people crashed Wednesday on a domestic flight from the mountainous northern city of Chitral to Islamabad, killing all on board.
Remains of victims of the PIA PK-661 have been brought to Islamabad for DNA testing. At the time this report was filed, only eight people were identified and their remains were given to the families after examination. Despite repeated calls from hospital authorities to the heirs for submitting their DNA samples immediately for identification purposes, at least nine samples are yet to be received.
The plane took off from Chitral around 3:50PM and PIA said the plane crashed at 1642 local time (1142 GMT) in the Havelian area of Khyber Pakhtunkhwa, about 125 km north of Islamabad.

Remains of the victims are being transported to Islamabad from Abbottabad- Geo News
DNA samples are being taken at PIMS Hospital in Islamabad where victim families have gathered. Authorities said help desks have been established at the hospital for families of the victims.
DNA sampling may take six to eight days, state minister Tariq Fazal Chaudhry said, adding that remains of singer-turned-preacher Junaid Jamshed has not yet been identified.
"Not one body was intact," an official at Ayub Medical Complex in Abbottabad where the bodies were initially brought told AFP.
Rescuers, including hundreds of villagers, had overnight pulled charred and smoking remains from the wreckage of the aircraft, parts of which were found hundreds of metres away from the main site in Abbottabad district of Khyber Pakhtunkhwa province.
An AFP reporter at the site near the village of Saddha Batolni said part of the plane remained on fire more than five hours after the crash.
Also Read: Eyewitnesses recall horror of PK-661 crash
"The bodies were burnt so badly we could not recognise whether they were women or men," a villager in his thirties, who declined to give his name, told AFP.
"We put into sacks whatever we could find... and carried them down to the ambulance."
Six of the victims had already been identified through fingerprints, according to Ali Baz, another official at the Ayub Medical Complex, AFP reported.
Details of the identified passengers were pasted on the wall outside the mortuary.

Pakistani people hold candles in memory of victims of plane crash in Multan on December 7, 2016- AFP
PM directs early completion investigation
Prime Minister Nawaz Sharif has urged to complete the process of inquiry of PIA crash under the Safety Board as soon as possible.
Addressing a high-level meeting in Islamabad, he directed for detailed, independent, and transparent inquiry into the unfortunate crash in order to bring facts before the public.
The Prime minister also directed that a senior officer from the Air Force should be co-opted as a member of the inquiry committee.
Nawaz Sharif directed PIA administration to reach out to the affected families and facilitate them in every way to lessen the burden of their grief.
Investigation team visits PIA PK-661 crash site
An investigation team visited the Pakistan International Airline (PIA) crash site.
Authorities handed over the black box from the plane to the team led by Air Commodore Munir Butt.
Teams from the CAA and PIA collected evidence and left.
The debris of the aircraft will be transported to Karachi or Islamabad in a helicopter, a PIA official said.
PIA aircraft was fit to fly: Chairman
PIA Chairman Azam Saigol while confirming there were no survivors of the tragic plane crash said the aircraft was 'fit to fly'.
Speaking at a news conference here, Azam Saigol said the PIA has 11 ATR aircraft in its fleet and they all have been 'reliable'.
"The plane which crashed on Wednesday was A-checked in October," he said in response to rumours about technical issues with the aircraft, adding that this certification is conducted after every 500 hours of flying.
"There is no room of human error regarding fitness certification of the plane, however, the incident will be probed thoroughly," the PIA chairman assured, hinting at assistance by international agencies in the investigations.
Saigol said "it was our plane and our passengers", yet contending the air travel was still the safest means of transportation. "We will ascertain the causes of the crash and will inform you," he told anxious newsmen.
"This, however, should not be expected from the PIA that it would fly unfit jets," he added.
According to a spokesperson for the Commissioner's office in Hazara Division, 42 bodies have been recovered from the plane's wreckage, which had scattered over several kilometres. The Inter-Services Public Relations (ISPR) said around 500 army personnel were taking part in the operation to recover the bodies. Witnesses on the crash site earlier said there were unlikely to be any survivors.
According to Civil Aviation Authority officials, the ATR-42 turboprop plane with 47 passengers went missing from the radar near the town of Havelian in Abbottabad district of Khyber Pakhtunkhwa province while it was on its way to Islamabad. The ill-fated plane crashed at around 4:42 pm PST.
CAA sources confirmed a mayday call from the pilot to the control tower shortly before it lost communication with the plane.
The flight crew included pilot captain Saaleh Janjua, and first officers Ali Akram and Ahmed Janjua.
Deputy Commissioner Chitral Osama Ahmad Warraich was also on board the ill-fated PIA flight. Among the passengers were nine women and two infants.
Black box found
According to latest updates, the black box of the crashed plane has been recovered. PIA officials confirmed the development. Information recovered from the flight data recorder may prove crucial to the investigation of the reasons behind the plane crash.
Eyewitnesses said they had seen the plane crash into a hilly area near Havelian close to the Ordinance factory. Clouds of smoke could be seen rising from the area of the reported crash.
Pictures from the area, which was about an hour away from Havelian, showed the plane's wreckage which had scattered over a large area. Flames and smoke could also be seen rising from the wreckage.

Pictures sent by local residents
Junaid Jamshed, wife also killed in crash
According to a list of passengers issued by PIA, popular personality Junaid Jamshed and his wife were also on the ill-fated plane.
Jamshed, a former musician turned religious preacher and 'naat-khwaan', was in Chitral and his name was among the list of passengers on board the flight. According to the list, Jamshed was on the seat 27-C.
Jamshed's brother confirmed that Jamshed was onboard the ill-fated plane.
Junaid Jamshed: A Pakistani Icon
Pakistan has had a poor air safety track record in recent years.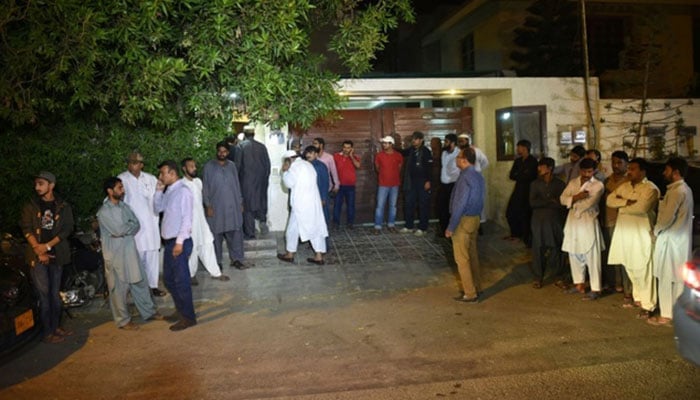 Pakistani people gather outside the house of Junaid Jamshed, a former Pakistani pop star turned evangelical Muslim, in Karachi on December 7, 2016, after his death in plane crash -AFP
"I will be back in five to six days," Jamshed`s last message
A few days before he died musician turned religious preacher Junaid Jamshed sent a voice message through WhatsApp to his coordinator Arsalan.
In the 44 seconds clip, Jamshed is heard assuring his coordinator that he is not upset at him and he will meet him in coming few days.
"There is no tension, Don't think I am aggrieved. You are like my younger brother, how can I be upset at you," he said. "I am not checking my WhatsApp regularly here, that is why I was not able to respond to your messages."
Jamshed added: "You are near my heart. I am never offended on personal disagreements."
He concluded his message by saying, "I will be back in five to six days"
Prime Minister calls air crash national tragedy
President Mamnoon Hussain and Prime Minister Muhammad Nawaz Sharif have termed the crash of plane a national tragedy and said the incident has saddened the entire nation.
Chief of the Army Staff General Qamar Javed Bajwa has also expressed deep grief over the loss of precious lives in the incident.
Timeline of air disasters in Pakistan
The country's last major air disaster was in 2015 when a military helicopter crashed in a remote northern valley, killing eight people including the Norwegian, Philippine and Indonesian envoys and the wives of Malaysian and Indonesian envoys.
In 2012, a Bhoja Airline plane, a Boeing 737 carrying 121 passengers and six crew members, crashed near Islamabad just before touchdown.
The worst aviation tragedy on Pakistani soil came in July 2010 when an Airbus 321 passenger jet operated by the private airline Airblue crashed into hills overlooking Islamabad. The flight was coming in from Karachi. All 152 people on board were killed in the accident, which occurred amid heavy rain and poor visibility.
Another deadly civilian plane crash involving a Pakistani jet came to pass in 1992 when a PIA Airbus A300 crashed into a cloud-covered hillside on its approach to the Nepalese capital Kathmandu, killing 167 people.