Pakistani-origin boxer Amir Khan's wife says she was bullied by her in-laws for three years, but now she has had enough.
In an interview to British newspaper Sun, Faryal Makhdoom, 25, alleged that her in-laws cropped her out of family photos, hurled a remote control at her and even slapped her.
She alleged that her in-laws broke the locks of room while she was away on a romantic break. The couple shares a house in Bolton with mum Falak, dad Shah, brother Haroon, 25, and sister Mariyah, 19
The catwalk model added that her in-laws had problems with her baring skin.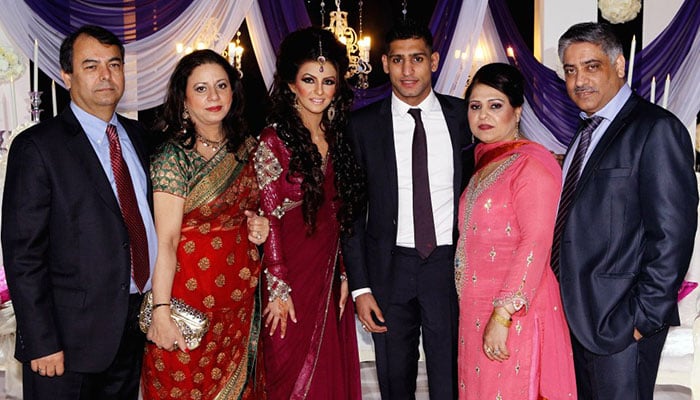 A family portrait- Source: The Sun
"I never felt I could do anything right. I was bullied physically and mentally," she told the Sun.
"I decided to speak up finally," she said adding that Amir supported her.
Faryal was only 21 years old, still a college student, when she married Amir.
Faryal said that her sister-in-law threw a remote control at her, and cropped her out of the family photos.
On her brother-in-law's wedding, she said she pulled her mother-in-law to the dance floor. She said, her brother-in-law tweeted that Faryal had no respect for her in-laws, something which he later deleted.
She said when she went shopping she was asked where she was going, and how much had she spent.
Her mother-in-law, she said, wanted her to cook breakfast for the whole family.
Earlier this month, she posted a series of allegations against her in-laws on Snapchat, where she said that they had forced him to divorce her when she was nine-months pregnant with her daughter.