Two roads diverged in a wood and I .. I took the one less traveled by, and that has made all the difference. – Robert Frost
KARACHI: Revolving around the theme 'The Road Less Travelled' from Robert Frost's famous poem, TEDxIBA brought together a motley of genius, inspiration and courage under one roof for an evening of incredible stories and powerful ideas.
Civil rights activist Jibran Nasir, fashion mogul Deepak Perwani, scientist Nargis Latif, social entrepreneur Sadaffe Abid, psychologist Nida Khan and fitness trainer Fatima Zara Mallick shared their inspiring stories at the event, held at IBA Main Campus on December 9.
Jibran Nasir – Striving for peaceful coexistence and tolerance
Lawyer, civil rights activist and independent politician, Jibran Nasir rose to prominence with his vocal stance against sectarian violence in the country, especially Karachi, and terrorist outfits operating within Pakistan. He is the cofounder of Elaj Trust, works for legal literacy and social justice through his campaign 'Never Forget Pakistan' and is the voice of marginalized communities through a broad-based alliance of progressive groups 'Pakistan For All'.
Jibran Nasir started his TED talk with a thought-provoking question: as educated, privileged members of the Pakistani society, do we realize that we carry the weight of progress and enlightenment for a country battling extremism, terrorism and sectarian violence?
Drawing attention to some of the prejudices and hatreds deeply ingrained in the society, the social activist urged the youth of the country to build tolerance.
"We need to achieve peaceful coexistence – a Pakistan where all communities: Muslims and non-Muslims, minorities, rich and poor, everyone can live in peace without bigotry, where people embrace the common bond of humanity and rise above hate, where we can learn to celebrate our differences with mutual respect for all."
"And the responsibility for this rests on your shoulders," he said, "because you are the future of this country and the thoughts you ingrain in your children will determine the future of Pakistan."
"Instead of always asking, what are our government, military, civil organisations doing, we need to start asking ourselves, what are WE doing to overcome hatred and extremism?"
He went on to read out a letter addressed to APS victims, where the nation apologizes to the young martyrs for its mistakes.
Geo.TV caught up with Jibran Nasir post-talk and asked him his ideas on how to tackle religious intolerance and promote coexistence in the Pakistani society.
"Our society has a widening schism between the extreme right and the extreme left.. we need to find moderation between the two ends of the spectrum: liberals and conservatives.
"The far right needs to grow tolerance for the far left and vice versa. Mutual respect and tolerance is what's needed to build a progressive Pakistan."
Deepak Perwani – Redefining fashion as we know it
Fashion mogul and designer Deepak Perwani has lent an entirely new perspective to the word 'fashion'. In his TED talk he stressed how fashion means more than just clothes and accessories.
"Fashion defines you – who you are as a person, a nation, a culture. The choices you make about what to wear, how you carry yourself, reflect how you feel about yourself and how others perceive you."
Pakistan's fashion industry is worth 7,000 crore rupees – fashion is a big job growth driver and is bringing about a revival of Pakistani arts and culture, he said.
Nargis Latif – Transforming Karachi's garbage into houses, furniture and gardens
For the past two decades, Nargis Latif's environmental venture Gul Bahao has been taking Karachi's waste and recycling it into bricks for building homes and furniture.
Nargis Latif, a dedicated scientist passionate about cleaning up the city she grew up in, shared with the audience her incredible quest to protect the environment and save precious resources.
"I had always wanted to be a scientist. But what's important is to realize science can enable you to make a difference in people's lives through cutting-edge technology and ideas."
Her venture Gul Bahao does just that – drawing upon science and technology, it transforms waste into wonder. Plastic bottles, wet garbage, waste paper, shopping bags, glass are reborn as low-cost shelters, furniture, pillows, homes and gardens.
Nida Khan – Treating depression through music and arts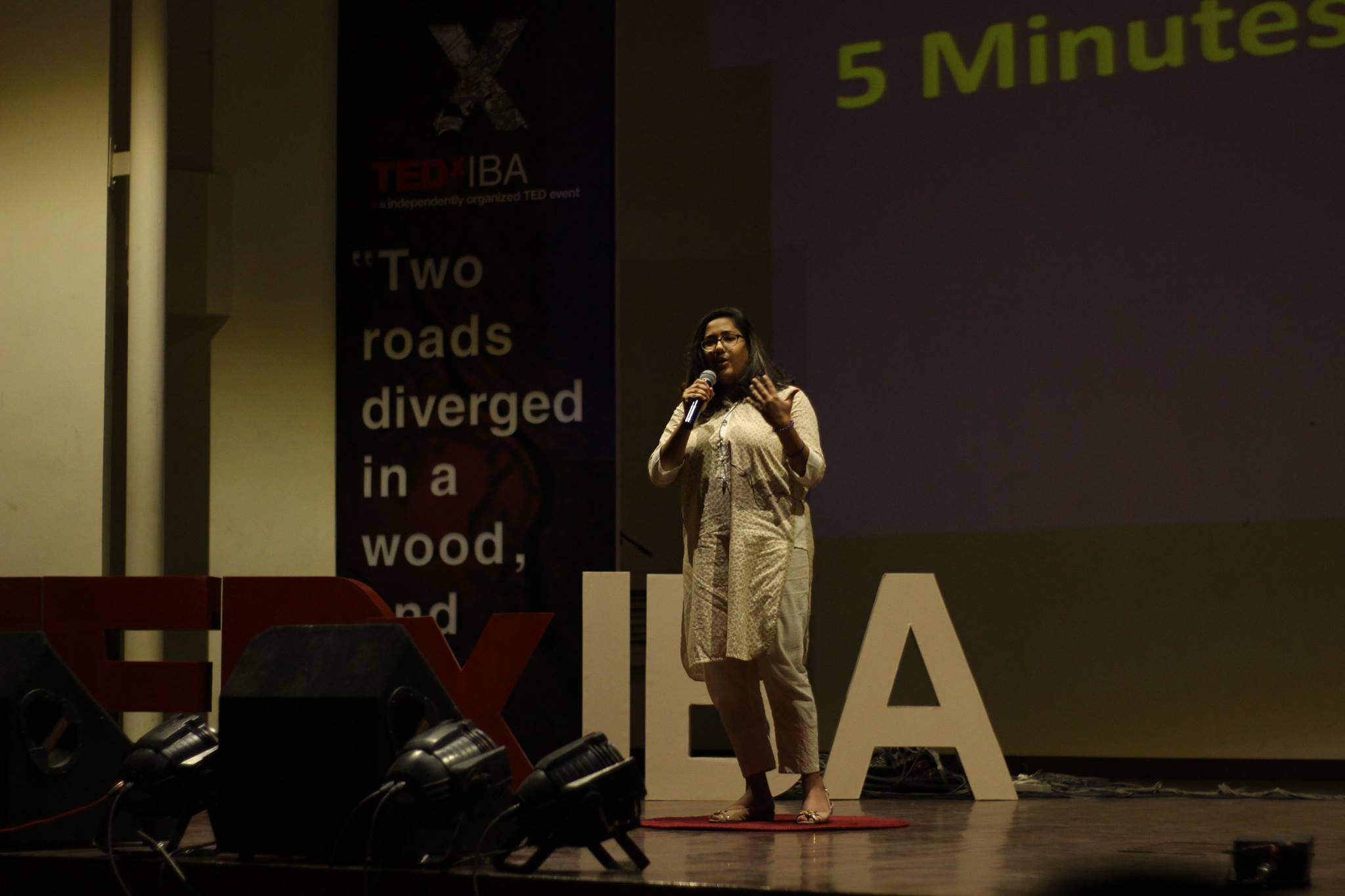 Clinical psychologist Nida Khan decided to change the way depression is perceived and treated in our society. Her approach? Help her patients through music, poetry and arts instead of the conventional 'talking'.
"If people could change the way they feel, they WOULD change it. Here's the thing: they are often not able to change it, that's why they seek professional help. Talking sometimes isn't enough. But there are other ways to communicate.
"Music and arts speak volumes about a person, their thoughts and dreams, their hopes and fears. If music, poetry, paintings can help people feel happy even for five minutes, it helps to break the vicious cycle of depression."
Sadaffe Abid – Empowering women, one community at a time
One of Pakistan's most successful businesswomen, Sadaffe Abid's work centers on empowering and advancing women in leadership. She is the former CEO and COO of Kashf Foundation – one of Forbes Top 50 microfinance institutions which she helped grow from a small team to ultimately serving 300,000+ women clients in Pakistan through $200 million in microloans.
Sadaffe Abid is the cofounder of CIRCLE Women, a social venture which develops the capacity of women to exercise leadership. During her TED talk, she shared her journey of empowering women through CIRCLE's mission to advance women's economic participation through entrepreneurship and leadership labs and advocacy.
"Women underestimate themselves. They can do anything they set their minds to. When women progress, the nation progresses.
"We need to believe in ourselves and have the courage to step out of our comfort zone. Magic happens outside of our comfort zone. We need to celebrate one another's successes and support one another."
Fatima Zara Mallick – Fitness for self-empowerment
Fatima Zara Mallick has made it her life's mission to help people overcome their physical and emotional insecurities through fitness. An internationally certified trainer, FZM recounted her struggles with anorexia and bulimia during her earlier years and how she finally managed to defeat her insecurities through her newfound passion for fitness.
Working to rid the society of its obsession for 'the perfect body', FZM through her fitness studio aims to make women feel good about themselves.
"You wanna know how to succeed in anything in life? Start with self-empowerment and self-love. Accept who you are. Love yourself. Liberate yourself from the prison you've built around you. Find your strength in what you love to do, like I found in mine."
The writer is a producer at Geo.TV and tweets @Mariaa_54