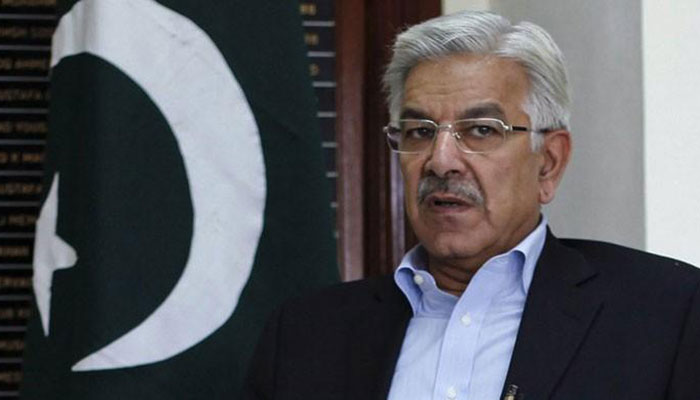 ISLAMABAD: Foreign Minister Khawaja Asif on Thursday categorically rejected all Indian allegations regarding Kulbhushan Jadhav's meeting with his family, saying that a comprehensive security check was necessary, which was earlier agreed upon by both the sides through diplomatic channels.
According to an official Foreign Office (FO) press release, the foreign minister said the visitors were treated with dignity and respect, adding that the change of clothes and removal of jewelry were entirely for security reasons.
"The visitors changed into their own clothes after the meeting. All their belongings were returned to them before they left. The wife's shoes were retained as they did not clear the security check. A metal chip has been found in one of the shoes, which is being analysed," said the statement.
While referring to Indian Minister for External Affairs Sushma Swaraj, Asif said that Pakistan's humanitarian efforts do not take away attention from the fact that this wasn't an ordinary meeting between a son and his family.
"The reality remains that Commander Kulbhushan Jadhav is a serving Indian naval officer and a convicted Indian terrorist and spy responsible for multiple deaths and destruction in Pakistan," the statement read.
The foreign minister further stressed that Pakistan has been open and transparent throughout the meeting. He said that Pakistan does not wish to indulge in fallacious accusations and blame game, adding that the focus was on the bigger positive outcome that the meeting happened, despite immense challenges and impediments.
He said that distortion of facts and baseless propaganda, which spoils the atmosphere and is counter-productive and should be avoided.
India's Sushma Swaraj alleged earlier on Thursday that spy Kulbhushan Jadhav's family was harassed while they were visiting him in Pakistan.
Swaraj, speaking in the Indian parliament after submitting a report on the meeting, claimed that the visit was used by Pakistan for propaganda purposes.
On December 25, Jadhav's mother and wife met him at the Pakistani Foreign Office in Islamabad. The meeting was allowed by Pakistan on humanitarian grounds.