LAHORE: Meesha Shafi on Wednesday received a legal notice sent by Ali Zafar's counsel asking the singer-cum-actor to delete her tweet alleging harassment and issue an apology on Twitter, failing which he will file a Rs1 billion defamation case against her.

The letter, a copy of which is available with Geo News, demanded Meesha to delete her tweet in which she alleged Ali sexually harassed her on more than one occasion. The notice also sought "an apology using the same social media platform of Twitter proclaiming our client's innocence."
"However, if you fail to delete the tweet and issue an apology based on Twitter within 14 days of receipt of the legal notice, we have definite instructions from our client to seek remedy for redressal of his grievance and claim damages to the tune of at least Rs100 crores," it added.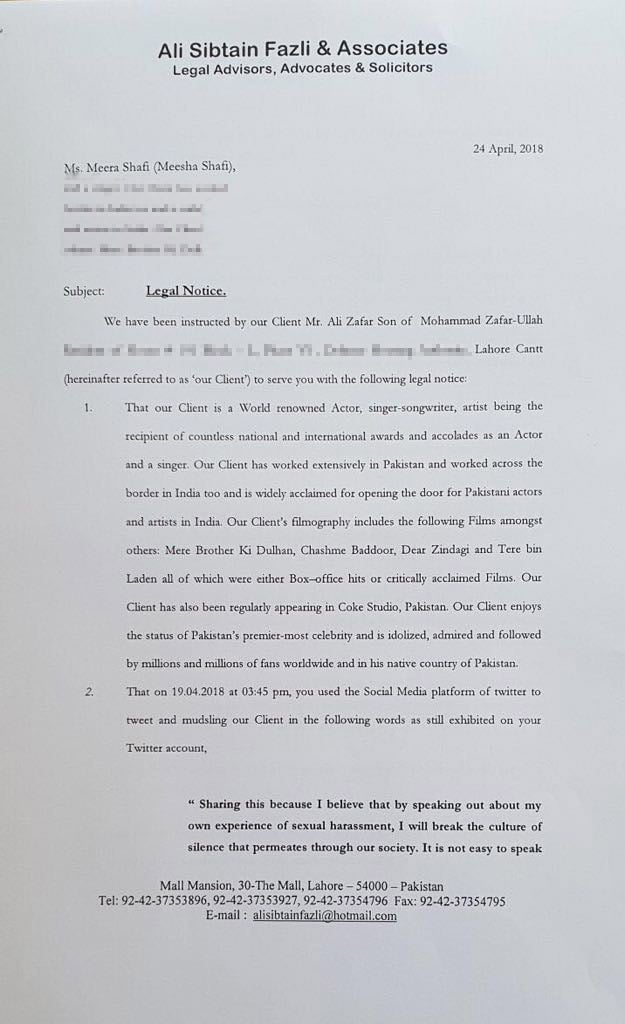 Meesha' legal team has strongly dispelled the contents of the legal notice as 'false'. "Meesha's allegations of sexual harassment against Ali Zafar are based on truth thus the issue of defamation does not arise," Barrister Muhammad Ahmad Pansota said.
Quoting Meesha's tweet in which she alleged harassment, the notice read, "That you have accused our client of repeated sexual harassment of a physical nature and through this accusation you have made yourself a part of the global #MeToo movement raising affinities and sympathies for yourself based on a lie and a defamatory campaign being spearheaded by you as a result of which all news channels, newspapers and social media platforms in the country and abroad are reaching conclusions about the character of our client."
The notice added, "That the fiction tweeted by you is actionable as libel as our client has never sexually harassed you neither has he ever had any intention of sexually harassing you. Your tweet has come as an absolute shock and brought dismay to his person, his family and millions and millions of his followers worldwide."
Last Thursday, Meesha took to Twitter to publicly accuse Ali of physically harassing her on "more than one occasion".
"This happened to me despite the fact I am an empowered, accomplished woman who is known for speaking her mind!" her statement had read.
Ali, on the other hand, had "categorically" denied the allegations and threatened to take legal action against the actress.
"I intend to take this through the courts of law, and to address this professionally and seriously rather than to lodge any accusations here," the singer had said on Twitter.

NOTE: An earlier story, based on a draft of the legal notice shared by Zafar's legal team, reported the claimed amount to be Rs 100 million. However the final legal notice delivered to Shafi's legal team has demanded Rs 100 crores (Rs 1 billion).