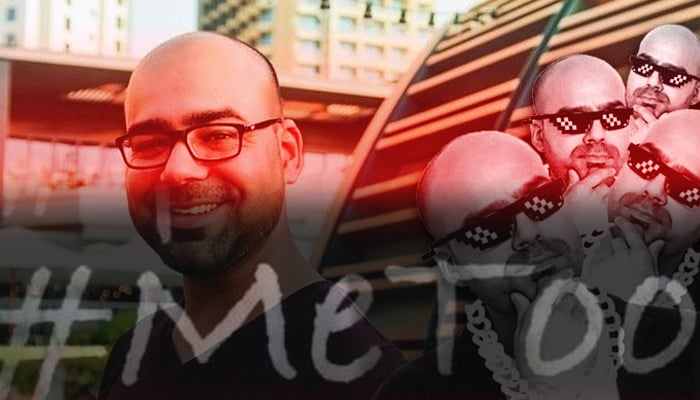 KARACHI: Multiple women have accused prominent stand-up comedian and vlogger Junaid Akram of sexual harassment, with the survivors being girls in their teens and early twenties.

Akram has denied these allegations.
Five women have come forward with their stories, alleging the comedian of sexual assault and blackmail.
The first woman alleged that she and Akram used to exchange messages of sexual nature in their relationship and that during that entire period, he chose not to inform her that he was married. The woman said she learned from a third party that he was previously married and that, when she confronted him about the matter, he "forcibly kissed" her, and then she "slapped him".
A second woman alleged that Akram blackmailed her online and coerced to expose her body by threatening to reveal her personal information publicly. She claimed of having met Akram at a university event and was tasked to invite him to a follow up at the university. The accuser said this is when Akram allegedly "asked me to video call him" despite her assertion that she was uncomfortable.
The accuser said Akram took advantage of the situation as she had to secure his confirmation for the event; this is when the harassment began. "He started flirting or I would say talking about sexting." She was unable to "say no in clear terms" and he then demanded her "to go naked on video call".
According to the accuser, Akram blackmailed her, saying he would make a video revealing her secrets. Afraid of Akram's threat, she claimed to have removed her shirt during the video call with him, which stopped when her sister came into the room.
"I was crying," she said, and decided to tell her sister everything that had happened between her and Akram. Telling her to call him again, her sister "threatened him that she'll expose him on social media if he contacted me again", to which Akram, in response, threatened her to "go ahead" because "he has recorded my video" as blackmail.
She eventually had to delete the conversations, change her number, "blocked him on social media", and then "deactivated my social media for sometime as well".
The third woman said the incident with her happened when she was 20; "it made me super uncomfortable but I thought it's my fault [because] I didn't react properly". She alleged that Akram contacted her on Facebook, exchanged pleasantries, and then, assuming that she was homosexual, made her an offer to sleep with another girl in the very first conversation.
The fourth accuser discovered Akram in a news article from 2014, "followed him on social media and would occasionally comment on his posts" but he requested her to refrain from posting comments. Sometime after that, he asked for her WhatsApp number but they interacted infrequently.
Then, all of a sudden, "on a Friday, he remarked about Jummah prayers", and shortly after, "he said 'I wanna see you'", to which, though shocked, she said: "'Yes sure wherever [sic] you are in country' because he was residing out of country at that time".
His next response was suggestive — he said: "'No I wanna see you now, if you know what I mean'", which caused her to panic, and she blocked him.
The evidence the fifth woman shared with to us corroborates the claims the first accuser made that he often dated girls without disclosing that he was married. She claimed that Akram had approached her when she was young, entered into a relationship with her, but when she learnt of his previous wife and confronted him, he admitted to lying to her.
According to the messages shared with us, he said: "I just didn't want to cause you this in the long run.
"You just didn't deserve all this in December or whenever I'd have broken it up to you. I hope one day you understand where I came from. If you don't forgive me, that's fine too. I deserve it.
On May 15, 2016, however, he messaged her again, saying: "Mistakes were made. Hearts were broken. Harsh lessons learnt."
Geo.tv reached out Junaid Akram for his response to the allegations. He said: "I would like to state that all allegations of sexual harassment and sexual misconduct are false.
"I am a social activist who interacts with all types of people, however, my conduct in such dealings has always been courteous, respectful, and consensual. It is unfortunate that this type of false information is being circulated and propagated at the expense of my reputation and my name."
Akram said that given the seriousness of these allegations, "I have already met my legal team, and the wheels have already been set in motion to bring to book those who are trying to hurt me and people associated with me".