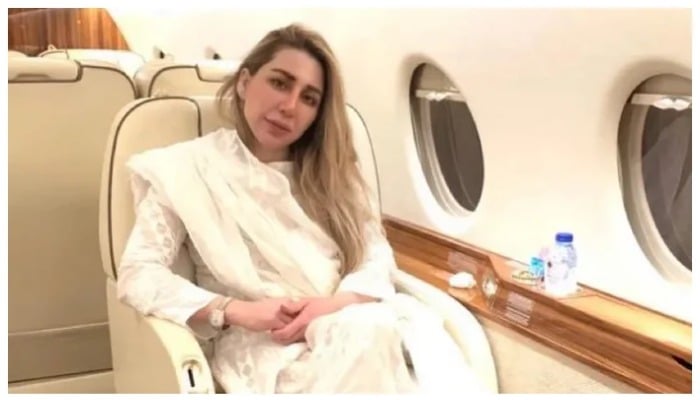 ISLAMABAD: The National Accountability Bureau (NAB) has initiated an inquiry into assets beyond known sources of income and money laundering allegations against former first lady Bushra Bibi's friend, Farhat Shahzadi — better known as Farah Khan.

"The NAB has authorised an inquiry against Farhat Shahzadi alias Farah Khan and others on the allegations of accumulation of illegal assets beyond known sources of income, money laundering and maintaining various accounts in the name of different businesses," a notification issued by the anti-graft watchdog stated.
NAB Lahore director-general has been directed to conduct an inquiry into this matter as per the law.
According to NAB, a huge turnover amounting to Rs847 million has been found in Farah's account during the last three years, which does not commensurate with her stated account profile.
Read more: Imran Khan leaves without answering questions about Farah Khan
The aforementioned credits were received in her personal account within a short time period and withdrawn immediately after credit.

The notification stated that multiple media reports suggested Farah Khan was found to be allegedly involved in gathering assets beyond legal means.
Meanwhile, a review of the income tax returns of Farah Khan observed that her assets grew exponentially from 2018 and onwards due to unknown reasons.
Moreover, Farah frequently travelled abroad and the trips include nine visits to the United States and six visits to the United Arab Emirates.
Farah Khan, family's riches swelled during PTI tenure: report
Farah Khan and her family's riches ballooned during the PTI tenure, The News reported Tuesday, citing documents that revealed that Farah and her husband, Ahsan Iqbal Jameel, exchanged gifts and loans worth millions of rupees in the said period.
The documents suggest that the exponential growth of the assets does not correspond to the declared source(s) of income and both Khan and Jameel were the alleged beneficiaries of the scheme for whitening black money during PTI's stint in power.
The husband and wife had declared Rs20 million and Rs328.7 million respectively, under the Tax Amnesty Scheme 2019.
The two were not the only luckiest people whose assets grew exponentially as Farah's sister, Musarrat Khan was also found in possession of 15 residential plots (five marlas each) in the Lahore Development Authority City and three residential plots (two kanals each) in Defence Housing Authority, Lahore, which she bought during PTI regime.