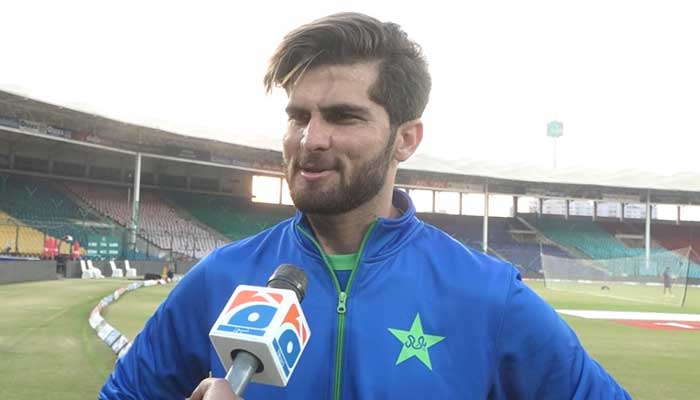 KARACHI: Pakistan pacer Shaheen Shah Afridi regained his fitness and began bowling with full rhythm, eyeing a comeback with next month's Pakistan Super League.

Shaheen's last six months were mostly ruined due to a knee injury. Even though he played T20 World Cup in Australia, the player missed the two home series against England and New Zealand following his injury and surgery.
However, the 22-year-old fast bowler is now set to return in full action with his rehabilitation in the final stages.
Earlier today, he trained alongside Pakistan's ODI squad ahead of the three-match ODI series against New Zealand. Shaheen bowled four overs and participated in fielding drills with coach Abdul Majeed.
Afridi told Geo News about feeling better and being all set to make a comeback very soon.
"I am feeling much stronger than what I felt during the World Cup. I'm bowling with full rhythm and eager to make a comeback very soon," he said.
Shaheen credited the team's physiotherapist Cliffe Deacon for his rehab work and said that being with the side for the process benefited him. The pacer also mentioned that the PCB's management has given him a week-by-week plan for his return to the game.
"This week, which ended today, I bowled around 19 overs. Next week, I will be bowling around 25 overs," he shared with Geo News.
"It is good to be back in the ground, I missed this all so much and I am thankful to the Almighty for this," the fast bowler added.
In reply to a question, Shaheen said that time away from the field was very difficult for him but his family and friends motivated him. But more than anything, the eagerness to play for Pakistan again kept his confidence high during that period.
The young fast bowler has now set his eyes on the PSL's eighth season, as he will be leading Lahore Qalandars and aiming to defend the title.
"We are a very good side and I am confident that we'll produce better results than before. I am very happy with the team, as we have overcome where we lacked last year and I believe that Qalandars are stronger this time," the cricketer said.
"The PSL is the biggest brand for Pakistan and I am looking forward to making my full comeback during that tournament," the fast bowler said.
While Afridi is eying the PSL for his comeback, he may travel to Bangladesh to play a couple of matches in the Bangladesh Premier League (BPL) to regain full match rhythm.
He has also received the NOC to travel to Dhaka for the league, but his appearance will be decided after witnessing his future workload.