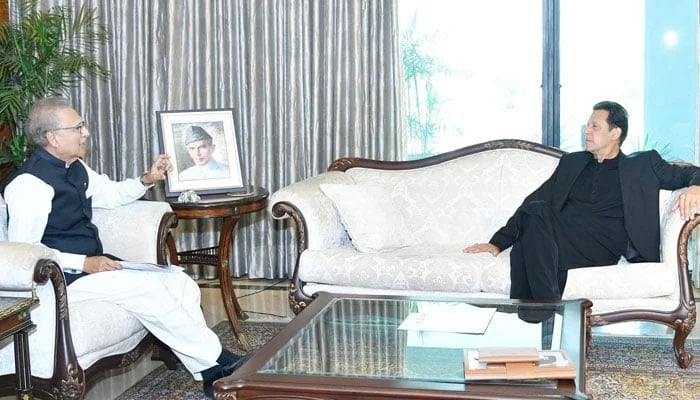 President Alvi met PTI chief at his residence in Zaman Park.
Two leaders discuss the president's letter to ECP.
President had asked ECP to immediately announce a date for polls.
---
LAHORE: President Dr Arif Alvi met Pakistan Tehreek-e-Insaf (PTI) Chairman Imran Khan and discussed elections in Punjab and Khyber Pakhtunkhwa as well as the overall political situation in the country.
President Alvi called on the PTI chief at his residence in Zaman Park, Lahore on Thursday.
Both leaders also expressed reservations about the Election Commission of Pakistan (ECP) not announcing dates for the KP and Punjab elections. The two leaders also discussed the president's letter sent to the ECP, asking the commission to announce the date for elections.
"ECP has failed to fulfil its fundamental duty," said Imran Khan while talking to President Alvi.
On Wednesday, President Arif Alvi asked the ECP to immediately issue the election schedule for the assemblies of the two provinces.
In a letter addressed to Chief Election Commissioner Sikandar Sultan Raja, President Arif Alvi said that the election of an assembly was to be held within 90 days of the dissolution as provided by Article 224(2) of the Constitution.
He highlighted that the conduct and holding of elections was the primary and essential duty of the ECP as per PART VIII of the Constitution, particularly Article 218(3), which assigned the duty to the ECP to ensure the holding of fair and free elections.
He had reminded the CEC and other ECP members about their fundamental duty as per their oath under Article 214 and Third Schedule of the Constitution, which says, "I will discharge my duties……faithfully in accordance with the Constitution of the Islamic Republic of Pakistan" and the Elections Act, 2017.
He said in order to avoid serious consequences of breach/violation of the Constitution/law, ECP should announce election schedule of the two dissolved assemblies forthwith.