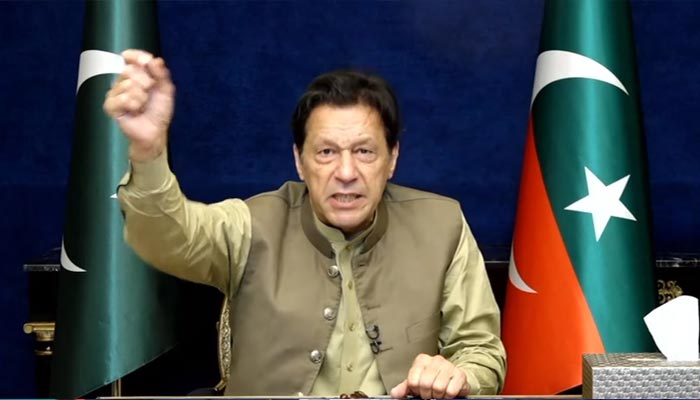 PTI to stage historic power show on March 22 (Wednesday).
Khan to move all high courts against operation at Zaman Park.
He claims govt want to either throw him in jail or kill him.
---
Pakistan Tehreek-e-Insaf (PTI) Chairman Imran Khan on Sunday yet again announced a power show at Minar-e-Pakistan on Wednesday (March 22) after yesterday's "high drama" as chaos erupted at his Zaman Park home and at the judicial complex in Islamabad where he appeared before a trial court in the Toshakhana case.

It is pertinent to mention here that the former ruling party had the same plan to hold the "historic" public rally at Minar-e-Pakistan on March 19 (today) but the Lahore High Court (LHC) on Thursday barred the PTI from holding the Lahore rally.
A day earlier, the police and PTI supporters fought pitched battles outside Khan's Zaman Park residence and at Islamabad Judicial Complex, wounding several on both sides.
The former prime minister had travelled back to Lahore from Islamabad after Additional Sessions Judge Zafar Iqbal cancelled his non-bailable arrest warrants in the Toshakhana case on marking his attendance.
The judge adjourned the hearing till March 30 and told the parties in the case that arguments would take place during the next hearing and also ordered Khan to ensure his presence.
He has been tangled in a slew of court cases since he was ousted in a no-confidence motion last year and pressuring the coalition government, which replaced him, to hold early elections.
Recalling the incidents that took place since his announcement of kick-starting the election campaign from March 8, he said: "I decided to hold a rally on March 8 after taking permission from the police on March 7, however, on the day of the gathering they started installing containers and imposed Section 144."
He questioned how can authorities imposed Section 144 — banning pillion-riding and gathering of five or more people — after the announcement of the election date.
'They want to throw me in Balochistan jail'
He claimed that despite all the drama he decided to call off his rally because he was afraid of chaos, "but they [coalition government] want to throw me in Balochistan jail so I am unable to hold campaign for the upcoming elections".
"They plan to arrest me so that I am unable to issue ticket to my party leaders," he said, accusing the Pakistan Muslim League-Nawaz (PML-N) of conspiring a plan against him.
Khan, without naming PML-N Senior Vice President Maryam Nawaz, said: "The 'queen of lies' wants to have a level-playing field before the general elections are held but this is all a part of the London Plan as they want to throw me out of their way as they very well know that the PTI will clean sweep against them."
The cricketer-turned-politician recalled that he had requested the sessions court to shift his case due to security concerns, however, instead of adhering to his plea the court issued arrest warrants.
"When the court directed me to mark in-person attendance the people went crazy and asked me not to leave Zaman Park as they were afraid about my well-being," he said, adding that when he left, he knew either he would be killed or thrown in the jail in Balochistan.
He complained that it took him more than five hours to reach the Islamabad Judicial Complex as the caretaker government of Punjab had closed all motorways for one person.
"It felt like the authorities have deployed all police and FC personnel on the way of the judicial complex who were trying to provoke party supporters and workers to react by using tear gas in order to create a chaotic situation which would have delayed my appearance," he said.
Khan revealed that when he reached the Islamabad Judicial Complex he saw Rangers, police and other "unknown people" as they made all-out efforts to create chaos outside the court so that "when I come out of my car they can easily kill me."
PTI to file reference against Mohsin Naqvi
Meanwhile, regarding the search operation at his Lahore home — where he has been recuperating since he was injured in an assassination attempt in Wazirabad on November 3 2022 — the PTI chairman said that the police trespassed his home at a time when Bushra Bibi—Khan's wife — was alone at home.
"Under which law did they loot things, break things in my house?" he questioned, adding that these "disgraced people" weren't ashamed that a woman was alone in the house.
He warned that if the authorities responsible don't take action now the country would slip out of their hands.
Khan also blamed Punjab caretaker Chief Minister Mohsin Naqvi for the entire ruckus, saying that he has no morals how will he hold elections.
While sharing his next action plan to tackle the situation, the PTI chief said that he decided to move all high courts and would file a contempt petition. "The PTI will also file references against Mohsin Naqvi and Punjab IG for killing Zile Shah — the PTI worker who was killed last week.
The 70-year-old political leader said that the law of the jungle is prevailing in the country and only the judiciary can save the country from plunging into a deep mess.
What is the Toshakhana case?
Under the rules governing "Toshakhana" — a Persian word meaning "treasure house" — government officials can keep gifts if they have a low worth, while they must pay a dramatically reduced fee to the government for extravagant items.
The Toshakhana is under the microscope ever since the emergence of the allegations that Imran Khan purchased the gifts he received as prime minister at throwaway rates and sold them off in the open market for staggering profits.
In October last year, the former prime minister was barred from holding public office after the Election Commission of Pakistan (ECP) found him guilty of unlawfully selling gifts from foreign dignitaries and heads of state.
The 70-year-old cricketer-turned-politician was accused of misusing his 2018 to 2022 premiership to buy and sell gifts in state possession that were received during visits abroad and worth more than Rs140 million ($635,000).
The gifts included watches given by a royal family, according to government officials, who have alleged previously that Khan's aides sold them in Dubai.
The gifts included seven wristwatches, six made by watchmaker Rolex, and the most expensive a "Master Graff limited edition" valued at 85 million Pakistani rupees ($385,000).
The election commission's order had said Imran stood disqualified under Article 63(1)(p) of the Constitution.
Following the order, the election watchdog moved the Islamabad sessions court and sought criminal proceedings against him — and the PTI chief has missed several hearings.