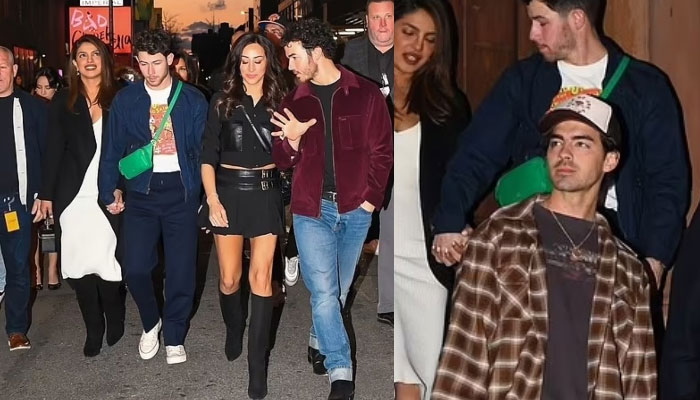 The Jonas Brothers decided to take some fresh air with family before their last show in New York.
On Sunday, March 19, Joe Jonas was joined by brother Nick Jonas and his wife Priyanka, brother Kevin Jonas and his wife, Danielle.
As per Daily Mail, the group headed to the Marquis Theater in Times Square, where the Jonas brothers performed the last of their five concerts in New York from Bar Centrale restaurant.
Priyanka, 40, was dressed in a simple black and white ensemble consisting of a white slip dress with a V-neck, covered with a black knee-length coat and boots as she held hands with her husband Nick, 28, who was casually dressed in a navy blue windbreaker, dark jeans and a white graphic T-shirt and sneakers.
Joe donned a brown plaid shirt over an aubergine-toned T-shirt and paint-splattered jeans and a billed hat.
Danielle Jonas, 36, bared her toned legs in a black mini skirt and boots with a matching black top as she held onto her husband Kevin's arm, who looked dapper in a burgundy jacket, a black T-shirt and jeans with rolled-up cuffs over his black boots.