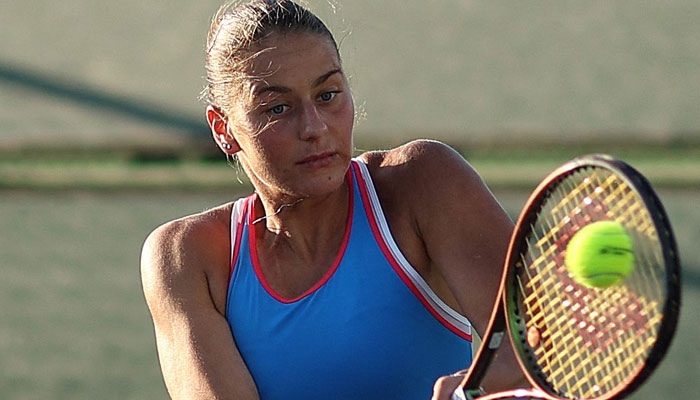 MIAMI GARDENS: Marta Kostyuk, a tennis player from Ukraine, has stated that the Women's Tennis Association (WTA) has disregarded a plea for a meeting with players from her war-affected nation. This is another indication of the ongoing tensions in women's tennis that are linked to the conflict. 
Kostyuk, cheered on by Ukrainian fans seated behind national flags, was beaten by Russian Anastasia Potapova at the Miami Open on Thursday and left the court without shaking the hand of her opponent.
Speaking to reporters after the loss, Kostyuk opened up about the frustration she and other Ukrainian players are feeling.
Her compatriot, Lesia Tsurenko, had said earlier this month that the players had asked for a meeting after she pulled out of Indian Wells ahead of a clash with Aryna Sabelenka of Belarus.
Kostyuk said the request had so far been ignored.
"Yes, we wanted to have the meeting with the board and we didn't get one. No reply, nothing, just silence," she told reporters.
The WTA did not immediately respond to a request for comment from AFP.
Kostyuk said she did not want to go into details about the issues that the players wished to discuss.
"I mean, once we're in the meeting we can talk about it. Before the meeting, I don't think it's a good idea to talk about what we want to talk about there," she said.
Potapova received a formal warning from the WTA after wearing a Spartak Moscow football shirt before a match in Indian Wells and Kostyuk did not appear impressed by that response.
"There are a lot of things that I don't agree with that WTA is doing. This not going to change anything," she said.
"I'll just get more hate online. Whatever I say, I will get a lot of hate. I don't know. Warning, whatever. You give her a warning... You can suspend someone, I don't know. I can't comment on that really, it's just funny," she said.
Tsurenko's coach, Nikita Vlasov, has been highly critical of the WTA in comments reported by Ukrainian websites and world number one Iga Swiatek of Poland has called for more to be done.
"I feel more should be done to help Ukrainian players because everything we discuss in tennis is about Belarusian and Russian players," she said.
'There is tension'
On Tuesday Sabalenka said she had faced "hate" in the locker room and suggested she had been in a row with Vlasov.
Asked about tensions, the 20-year-old Kostyuk said she had not been involved in any incidents but said there was an obvious reality.
"I might not say, 'Hi,' to some players, but I never approached anyone, never talked to anyone. Maybe I myself spread hate just by being there," she said.
"I don't know what people come up with. Obviously there is tension, we're not friends, we're at war at the moment."
Kostyuk, ranked 38th in the world, won her first WTA title earlier this month, beating Russian Varvara Gracheva at the ATX Open in Austin.
Asked whether she was able to block out thoughts of war when she was on court, Kostyuk said:
"It depends on the day. I never know. I can think what I want to think, I can do what I can do, but the moment I step out on the court I don't know what I'm going to get out of myself," she said, adding that she did try to avoid news ahead of games.
"I think it's just healthy to avoid any kind of news because mostly for the past year most of the news I receive are horrible and bad.
"I think it's drowning to just read the news overall no matter what it is about."