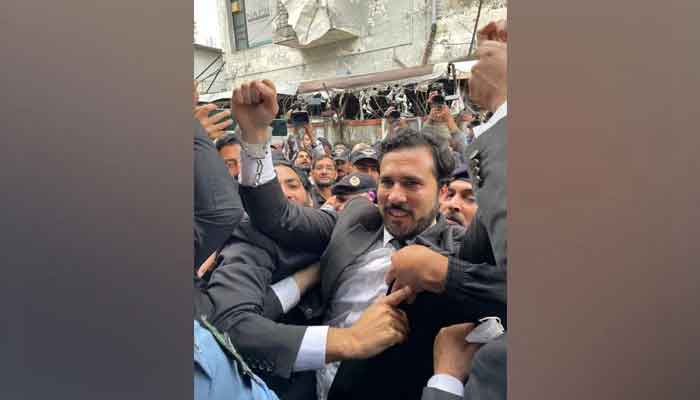 Hassaan Niazi brought to Karachi by Sindh police. 
Niaziz was booked in Karachi for inciting hatred against state.
Niazi will be presented before court in Karachi after investigations.
---
KARACHI: After Punjab Police, Pakistan Tehreek-e-Insaf (PTI) leader Barrister Hassaan Khan Niazi was taken into custody by Karachi police on Tuesday in a case of allegedly threatening the state.
Niazi, who PTI chairman Imran Khan's focal person on legal affairs and his nephew, is facing multiple cases including the case of inciting violence, interfering in police affairs, and the Zille Shah murder case. The latest case to be registered against the lawyer was of inciting hatred against the state among the public.
The case was registered on Monday on the report of Muhammad Iqbal at the Jamshed Quarters police station in Karachi.
According to the text of the first information report (FIR), Niazi and his associates incited the people through a social media video. He hurled threats against defence institutions while addressing them, saying that no one will be spared if Imran Khan is arrested, it added.
Karachi police authorities confirmed taking Niazi into custody saying that the four-member team which took the custody included a senior investigation officer (SIO) and three cops.

They said that Niazi would be presented before a court in Karachi after investigations.
Meanwhile, the courts have granted bail to Niazi in cases registered against him in Lahore and Quetta, said the sources. 
The Karachi police had acquired transitory remand of the PTI leader yesterday for his transfer to the port city from an anti-terrorism court (ATC), which sent him to jail on a 14-day judicial remand in the Zille Shah murder case.

During the previous hearing, the investigation officer sought Niazi's physical remand for a photogrammetric test, however, the judge approved a two-week judicial remand, rejecting the request for physical remand. 
Niazi was detained on March 20 in a case related to misbehaving with police officials after securing pre-arrest bail in three other cases as he was leaving the judicial complex in the federal capital. 
A local court in Islamabad on March 21 approved a two-day physical remand of the PTI's focal person on legal affairs. He was then sent to jail on 14-day judicial remand after the expiration of the physical remand.