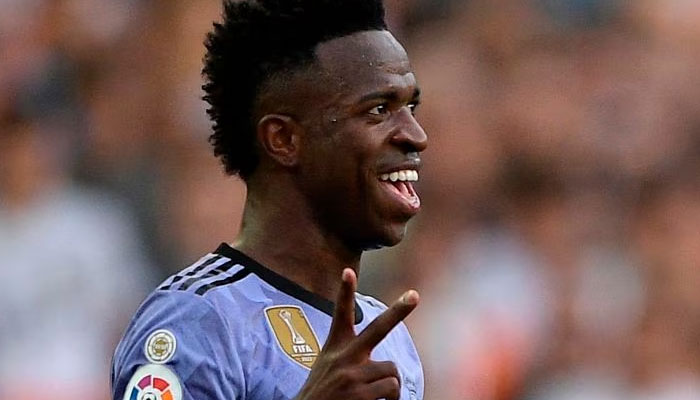 Real Madrid winger Vinicius Junior has had his red card rescinded by the Spanish Football Federation (RFEF) following his altercation with Valencia players and the racist abuse he suffered during their LaLiga match on Sunday. 
The RFEF's Competition Committee reviewed video footage and accepted Real Madrid's complaint against the red card. As a result, Vinicius has been cleared of any wrongdoing.
Additionally, the committee has taken action against Valencia, ordering the closure of the Mario Kempes stand at their stadium for five matches and imposing a fine of 45,000 euros on the club. Vinicius had pointed out a fan who was racially abusing him from that stand during the game.
The incident leading to Vinicius' red card occurred when he was involved in a scuffle with Valencia players, during which he was grabbed around the neck. However, this crucial detail was omitted from the VAR footage that the referee reviewed, resulting in an erroneous decision. The Competition Committee acknowledged this omission in their statement, stating that it influenced the referee's assessment and led to an arbitrary decision.
Vinicius has been vocal in his criticism of La Liga following the incident, garnering support worldwide for his stance against racism. Unfortunately, this was not the first time he experienced such abuse this season. The incident has sparked outrage, and seven individuals involved in hate crimes against Vinicius have been detained by the Spanish police.
In response to the incident, the RFEF has taken steps to address the situation. They have rescinded Vinicius' red card, acknowledging the oversight in the VAR review, and have imposed sanctions on Valencia for their fans' racist behavior. The club has been fined, and a section of their stadium will be closed for five matches.
The decision by the RFEF to rectify the situation and support Vinicius reflects the ongoing battle against racism in football. It serves as a reminder of the importance of combating discrimination in all its forms and ensuring a safe and inclusive environment for players on the pitch.