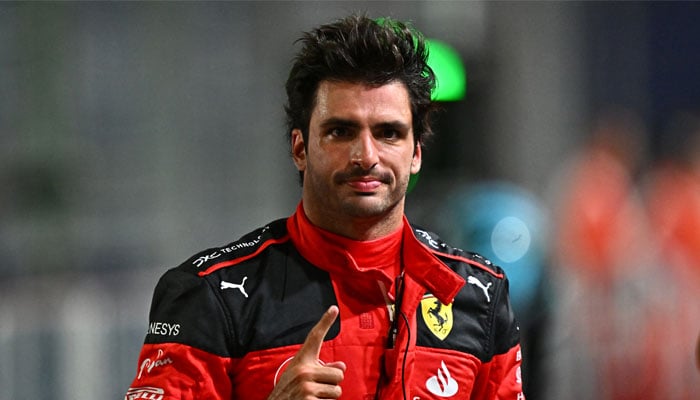 Disputes erupted at the $500 million Las Vegas Grand Prix after Carlos Sainz Jr's Ferrari suffered significant damage by running over a water valve cover nine minutes into the practice session on Thursday. 
According to the FIA, Sainz collided with the cover's concrete structure. The governing body needed an additional eleven minutes to order all vehicles off the track so it could conduct a thorough inspection of the circuit.

A second practice that was supposed to begin at midnight on Thursday was postponed, and Ferrari CEO Fred Vasseur angrily declared that Sainz would not be permitted to participate because of the "just unacceptable" event. 
Ferrari was called in to discuss whether the repairs would result in a fine with Formula One's stewards after having to replace the complete chassis along with other parts.

Video from spectators and traffic cameras showed Sainz's Ferrari shooting sparks as it momentarily proceeded down the course following the incident. 
A group of spectators observing from inside the vicinity of the collision scene seemed surprised and gasped as they saw the automobile speed by with something clearly amiss.
During a post-practice press conference, Vasseur was asked about the "bigger picture," but he refused to shift the subject.
"I'm not sure the topic for me today. We had a very tough FP1 that is going to cost us a fortune," he said. "We (messed) up the session for Carlos. We won't be part of the FP2 for sure, we have to change the chassis for the car. It is unacceptable for F1. You would be upset in this situation."
When the moderator tried again, Vasseur said, "May I go now? He nodded to Mercedes principal Toto Wolff, saying, "Can you ask Toto a question?"
When questioned if the shortened practice, which left Sainz and Esteban Ocon of Alpine with damaged cars, was a disgrace for Formula One's first-ever trip to Las Vegas in forty-one years, Wolff became just as combative.
F1 and its parent company Liberty Media have invested half a billion dollars in the race's extravaganza along the Las Vegas Strip, and they are actively advertising it.
"That is not a black eye. This is nothing. We are Thursday night, we have a free practice session one that we're not doing. They are going to seal the drain covers and nobody is going to talk about it tomorrow morning," Wolff said.
Wolff became noticeably irate when a reporter interrupted, saying that the halt would not go unnoticed because thousands of fans had rushed out of the grandstands while the track was being fixed.
"It's completely ridiculous. Completely ridiculous. FP1, how can you even dare try to talk bad about an event that sets a new standard to everything?" Wolff demanded. "You're speaking about a (freaking) drain cover that's been undone. That has happened before. That's nothing. It's FP1."
"We shouldn't be moaning. The car's broken. That's really a shame for Carlos. It could have been dangerous, so between the FIA and the track need to analyse how we can make sure that this is not happening again. But talking here about a black eye for the sport on a Thursday evening, nobody watches that in European time, anyway."
F1 Las Vegas released a statement stating that "a single water valve cover... failed." The second practice, which was supposed to start at midnight, was not anticipated to start until 2am local time, they said, adding that the F1, FIA, and local engineers were trying to fix the issue.
The much-anticipated race, which saw Formula One return to Las Vegas for the first time since it competed there in 1981 and 1982 on a circuit that primarily comprised the Caesars Palace parking lot, has gotten off to a problematic start. 
While F1 and Liberty were keen to make this year's race an extravagant affair, the excitement has been subdued by pricey tickets, outrageous hotel costs that have surpassed the budgets of many new American fans, and locals who are just incensed by the months-long disturbances caused by the course's construction.