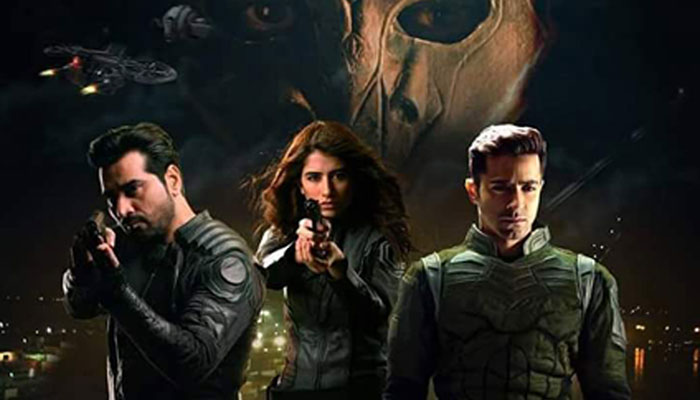 The month of July could have witnessed the clash of the new Spiderman movie with our very own Project Ghazi at the box office, but due to an unavoidable situation, this could not happen.

I managed to see the reboot of the 'Spiderman' franchise, by the name of 'homecoming', but was least impressed. The change in cultural identities of the sidekicks, such as the best friend and the love interest, was puzzling for me.
In Pakistan, the 'homecoming' of its own superhero film was scheduled for the same month. With big sponsors and huge funds involved, Project Ghazi was dubbed the country's first-ever superhero film.
However, it met disaster on the premiere night when a half-cooked film was screened. Sanity prevailed and the release date was pushed ahead. It is reported that due to the pressure from sponsors, an incomplete film got to the premiere.
If sponsors had been successful in making big movies, Hollywood would have churned out dozens while I was in school. We longed for Avengers, Justice League and Super Friends in the 1980s, which were nowhere in sight.
I remember Pakistan's first sci-fi film, Shanee, came out in those days. It was the debut feature film for director/producer Saeed Rizvi, who had made a name by making famous TV commercials. Marketed as a horror film, it turned out to be a sci-fi thriller, introducing Pakistan's own superhero in the process.
Shanee had everything a kid living in those days wanted to see. A spaceship, an alien, lasers, a speedy chase, energizing of the characters, lots of action and well-written dialogues, which were only seen during Sultan Rahi-Mustafa Qureshi's confrontation, that too in Punjabi.
In a meeting with Saeed Rizvi, I was taken back in time as to how the idea was conceived. Saeed belongs to a family of filmmakers — his father Rafiq Rizvi was a veteran, who had been making films before the partition of the Sub-continent.
Saeed credits his futuristic Pakland Cement commercial from 1985 behind the idea. 'When daddy saw the commercial, which had Laser energizing a complete factory, he advised me to make a film using that technology. I started working on it, but due to my busy schedule, it took a year to develop a detailed script. To get a powerful story, I engaged senior writer from daddy's team, late Agha Nazir Kawish, who had earlier written films like Aag Ka Dariya, Phir Subha Hogi and Samandar, recalled Saeed.
The title role was played by Sherry Malik, a model-turned-actor, who played the role of an alien with a wooden face. There was excellent support from veterans Babra Sharif, Nayyar Sultana and Muhammad Ali.
The film begins when an alien arrives on earth, later transforming into Shanee, the fiancé of Babra Sharif's character Hina. Shanee had been killed by Shamsher Khan, played by Asif Khan, and his 'return from the dead' alerted the bad guys. Nayyar Sultana played Hina's mother while Muhammad Ali was Dino Chacha, whose son was also killed by Shamsher.
The shooting for the film started in 1987 in Shabab Studio, where Saeed rebuilt a village, to his own liking. The theme, similar to 'He-Man and the Masters of the Universe', appealed to the age group who were not yet teenagers. The well-choreographed fight sequences were never seen before in a Pakistani film.
"When I announced my project, nobody had belief in me, except for the late critic AR Slote. All audio effects were purchased from Los Angeles. There was no help from the government in those days and not a single penny was invested from the private sector as well, as they thought I was crazy," Saeed went back in time, which he still considers the worst for the film industry.
The film was released on March 10, 1989. Saeed Rizvi wanted to release it on March 3, the day of his father's birth. Rafiq Rizvi died in September 1988, during the production of Shanee, and failed to see the final movie, which opened to packed houses. Most of the crowd comprised school kids, usually accompanied by their parents.
Nearly three decades have passed since Shanee. Instead of progressing, the film industry collapsed and is now reinventing itself. Project Ghazi, like Shanee, has an ensemble cast with Humayyun Saeed, Shehryar Munawwar, Syra Shehroze, Talat Hussain and Adnan Jaffar. Director Nadir Shah, like Saeed Rizvi, hails from the advertising field.
When the trailer of Project Ghazi came out, it was promising. I wish the mishap of the premiere night turns out to be a blessing in disguise, and the makers come up with a great film. Shanee mesmerised those who saw it, let's hope, Project Ghazi leaves a similar effect on its viewers.