LONDON: Karachi-based band Sounds of Kolachi won praise at a sold-out concert here where they collaborated with top UK musicians.

In their first performance in the UK, Sounds of Kolachi's three main musicians - Ahsan Bari (guitar and vocals), Waqas Hussain (sitar) and Gul Muhammad (sarangi) supported by Birmingham-based band Khaleeq, performed a set featuring SoK's well-known songs, as well as some improvisational collaborations. The set also featured the Grewal Twins – UK based sisters Sukhman and Hernoor who are Kirtan and Punjabi folk singers. Funoon London brought Karachi-based band Sounds of Kolachi to London as part of the Bloomsbury Festival.
The musicians presented an innovative sound – a combination of Sufi kalam, Punjabi and Sindhi folk, rock, jazz, and blues. The band performed their well-known tracks Allah hi Deyga, Man Mora, and Tarana. They also did a beautiful, hypnotic rendition of a kirtan (Sikh devotional song) in a collaboration with the Grewal Twins. Their rendition of Mast Qalandar was bold, new, and included improvised sections, including a fantastic jugalbandi between Ahsan on guitar and Ash (surname) on the drums, and then between Ahsan, and Waqas on sitar.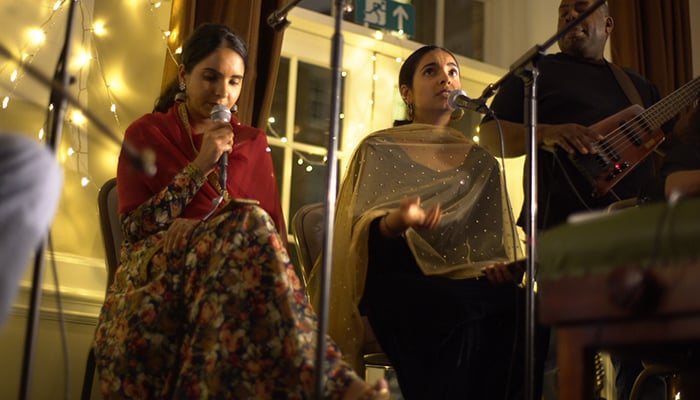 Nadia Rahman, co-Founder of Funoon London, told Geo News: "This was an evening of unbridled creativity. What Ahsan Bari, Sounds of Kolachi and friends did that night was equal parts moving, thought-provoking and mind-blowing. Watching the audience be taken on a journey of unexpected and unfamiliar yet totally beautiful journey was a privilege. The Funoon Salon was set up to platform exactly this sort of original, ground-breaking musical talent from South Asia."
Ahsan Bari, composer and vocalist of the band said: "Our UK debut was a wonderful experience. We have explored the possibilities of collaborating with the musicians from different cultures and dimensions. We are looking forward to our UK tour in 2018 and more collaborative work with Funoon London."
Nadia Rahman said that the performance was made possible with the support of the Pakistan Society, the Bloomsbury Festival, Goodenough College, and Talli Joe, a popular Indian regional food restaurant that provided delicious canapes and masala chai to the audience. She said that it has been a privilege to bring to London Coke Studio stars Ali Hamza, Bilal Khan, Natasha Khan, emerging singer Noorzadeh Raja and then Pashtun band Khumariyaan at the Southbank Centre's Alchemy Festival in May 2017.
Originally published in The News