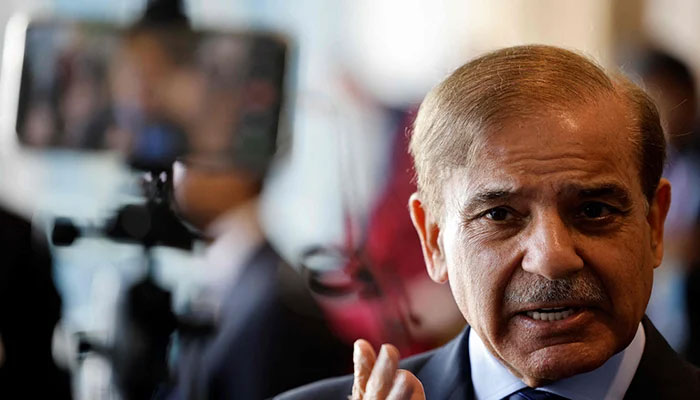 PM directs to establish committees to enhance supply, monitor rates.
No shortage of essential items, including wheat, says PM Shehbaz.
PM seeks proposals on 'Sasta Ramazan Bazaars'. 
---
ISLAMABAD: Prime Minister Shehbaz Sharif Monday directed the authorities concerned to ensure uninterrupted availability of edible items across the country and take action against hoarders.

The Prime Minister chaired a meeting on the availability of vital commodities and guaranteeing stability in their prices. Minister of Finance Ishaq Dar, Minister for Planning and Development Ahsan Iqbal, Minister for Food Security Tariq Bashir Cheema, chief secretaries of four provinces, Azad Kashmir and Gilgit-Baltistan and Chief Commissioner Islamabad also attended the session.
PM Shehbaz directed the establishment of special committees to enhance the supply chain and monitor the rates of vital commodities. He said there is no shortage of essential items in the country, including wheat.
The PM directed the provinces and administrative units to propose a substantial plan in the next review session about 'Sasta Ramazan Bazaars' and the supply of crucial items at cheap rates amid the holy month of Ramazan. He said that the administration should employ technology to guarantee the stability of rates in Ramazan bazaars.
Concerned authorities informed the attendants that there is no shortage of food items such as wheat, pulses, edible oil and others in the country.
All-out support for Turkey
Earlier, the PM visited the Turkish Embassy and said that Pakistan would spare no effort in cooperating with their Turkish brethren in their relief and rehabilitation process.
Talking to the Turkish ambassador to Pakistan during his visit to the embassy, the prime minister expressed solidarity with Turkish brethren and conveyed his deepest condolence to the families of the earthquake victims, Radio Pakistan reported.
He reassured all-out support to Ankara saying that the "government and the people of Pakistan are standing by Turkey in this hour of grief".
The premier said more medical and rescue teams would be sent to Turkey in the coming days along with necessary aid items including tents, blankets and warm clothes.
He stressed the need to create a mechanism for the supply of needed items. Speaking on the occasion, PM Shehbaz lauded Turkey's help in the 2005 earthquake and recent floods in Pakistan.