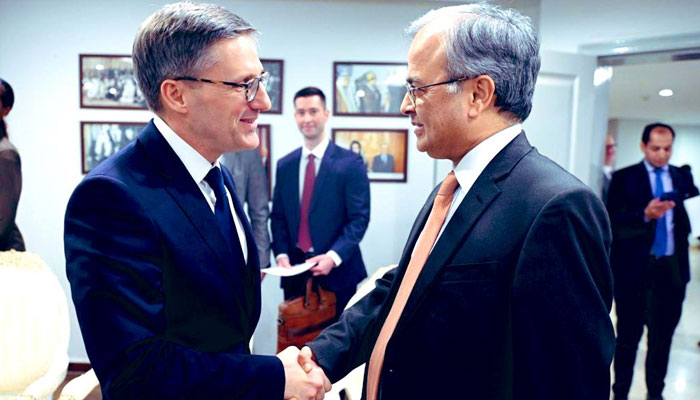 Frequent Pak-US visits manifestation of positive trajectory, says FO.
Expresses satisfaction on 2nd Mid-level Defence Dialogue in DC.
US extends support to Pakistan in recovery from recent floods.
---
The United States reaffirmed on Thursday to increase cordiality with Pakistan and said it was committed to advancing the bilateral relationship and supporting Islamabad in flood rehabilitation.
The reaffirmation came as Foreign Secretary Dr Asad Majeed Khan received US Department of State Counselor Derek Chollet at the Ministry of Foreign Affairs (MoFA) yesterday, according to an official statement issued by the Foreign Office (FO). 

Welcoming Counselor Chollet, the foreign secretary stated that the frequent bilateral visits were a manifestation of the positive trajectory of the Pakistan-US relationship, the FO said.
It added that the foreign secretary expressed satisfaction with the second Mid-level Defence Dialogue and the upcoming Trade and Investment Framework Agreement (TIFA) Council meeting in Washington DC.
The two countries are holding the second round of mid-level defence dialogue in Washington DC which ended on February 16, in which matters related to bilateral defence and security cooperation had been discussed.
The first round of the dialogue was held in Pakistan in January 2021.
The secretary emphasised the importance of sustained cooperation through the "institutionalised dialogues in trade and investment, energy, security, climate change and health," further stressing the need to "expand cooperation in agriculture, education, IT, and science and technology."
The statement also read that Counselor Chollet reaffirmed that the United States was committed to advancing the bilateral relationship. 
The counselor also expressed US solidarity and support with Pakistan and its people in recovery from the 2022 floods, it added.
The statement went on to state that the foreign secretary thanked the Counselor for US support and hoped to remain engaged in the long-term recovery and rehabilitation efforts."
Counselor Chollet was accompanied by Clinton White, Counselor of the United States Agency for International Development, Ambassador Donald Blome and Elizabeth Horst, Principal Assistant Secretary for the Bureau of South and Central Asian Affairs at the US Department of State, the FO said.
The high-level meeting, it should be noted, comes against the backdrop of the ties strained under former prime minister Imran Khan.
Khan, who was ousted in a no-confidence vote in parliament last April, had antagonised the US throughout his tenure. He also welcomed the Taliban takeover of Afghanistan in 2021 and accused Washington of being behind the attempt to oust him in 2022.