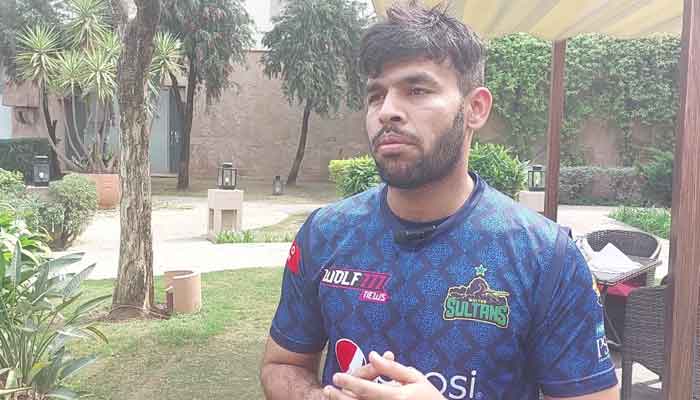 ISLAMABAD: Pakistan Super League (PSL), since its inception, has pulled out several cricketers from oblivion and brought them to the limelight.
This year Usman Khan, who was not known much earlier, has got the limelight after his quick century that came only from 36 balls — the fastest in the history of PSL — against Quetta Gladiators.
The Multan Sultans opener spoke to Geo News after his feat and said that he had never even dreamt about scoring a century off 36 balls in T20 cricket and it just happened in the flow.
"This was something I never thought of doing, I just played my natural game and it just happened in the flow. This wasn't something I had planned," Khan said.
Usman said he started his initial cricket in Sheikhupura but in an attempt to get a greater platform, he moved to Karachi where he was first noticed at Ramzan Cricket tournaments. He got the chance to represent Sindh's 2nd XI but never got the opportunity in the first XI.
That made Usman start thinking about trying his career in another country, and he moved to the United Arab Emirates (UAE).
Usman continued to play in UAE. He was first picked by Quetta Gladiators in season 2021 and for them, he scored 81 on debut but he didn't get a proper run there. He had also played in T10 and Bangladesh Premier League.
His century in PSL may have brought him to everyone's notice, but Usman wants to continue trying his luck in UAE.
"You know how things are in Pakistan. You play one season and next season you are out. I will continue to play in UAE because I feel that I can get the opportunity to play international cricket from UAE," he said.
"I have no regrets, no complaints. I don't know what would've happened if I had gotten a proper chance here," Usman said.
The player said that he is enjoying his time in Multan Sultans and is grateful to the franchise for the opportunity.
"I know that other openers on the side are much better than me, I was waiting for my opportunity, in the previous game I was unfortunate but yesterday, my hard work produced a result for me," he said.
"Rizwan had given me confidence and told me that I should continue playing my natural way. When I was in 80s, he told me to calm down but I said to him that let me play with the flow," Usman revealed.
The cricketer said that he never thinks about records and that the only thing on his mind when coming to bat is to give his best for the team.
"Records are meant to be broken, I am happy that I have scored the fastest century in PSL but when I'll erase this game from my memory when I go for the next game. I don't keep the past in my mind, I look to the future," he said.
"Many people talk about Shahid Afridi but I am no way near to him, he is a legend," Usman said.
Replying to a question, the cricketer said that his routine is to train for at least five hours a day and when a player gives such time to the ground, he usually becomes perfect in his shot selection.
"The only thing I want in my career is to become a good cricketer and be remembered in good words," Usman concluded.