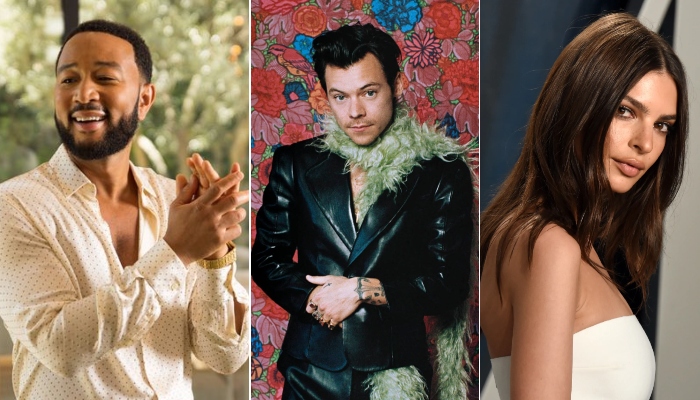 Harry Styles and Emily Ratajkowski took the internet by storm after they were spotted making out in Tokyo this weekend.
John Legend is the first celebrity to react to the rumored couple's PDA moment, which was captured by the Daily Mail.
In the video, the As It Was crooner, 29, and the model, 31, were seen enjoying the dancing on Legend's 2022 release song Dope.
Taking to his Twitter handle, the All Of Me singer, 44, reacted to Styles and Emily's video and wrote, "so dope."
Legend retweeted a quad of videos showing the pair locking lips on the streets of Tokyo and added, "Making out to Dope. So dope," followed by a smiley face with sunglasses.
Styles, who is currently performing on his Love on Tour in Tokyo, was seen wearing a black suit and white shirt.
The Gone Girl actress rocked a pink and black puffer jacket over a black and white cropped top and skirt. The duo was spotted packed on the PDA while standing outside by the back of a vehicle.