Pakistani-origin British boxer Amir Khan's parents have claimed that their daughter-in-law's dress code was unacceptable according to Islam, but have rejected accusations of bullying and domestic abuse by the catwalk model.
Earlier this month, Faryal Makhdoom, 25, alleged that her in-laws cropped her out of family photos, hurled a remote control at her and even slapped her. She claimed that her Pakistani in-laws had problems with her baring skin.
But, in their first interview since the domestic dispute made headlines in the international media, Khan's parents rubbished her allegations, claiming they never so much as laid a hand on her and treated Faryal like their own daughter.
"Faryal was adopting a dress code which in the Islamic faith was not acceptable. I am a father to two daughters whom I have treated exactly the same way as I have treated Faryal," said Sajjad Khan, speaking exclusively with Geo News at his home in Bolton.
He said he never said anything to Faryal, but did express his concerns to his son over her pictures in such dressing which she shared on social media.
"All this started with the issue of dressing. We kept asking Amir to tell her not to adopt such a dress code. And even if she had to wear such dresses, please don't post it on social media," he said.

Statement from Amir Khan's father
Sajjad Khan said that Faryal should have respected her in-laws. He said that he has no explanation to give regarding the "false accusations by Faryal".
Every family sees ups and downs, said Sajjad Khan. "We always strived for reconciliation between Amir and Faryal," he said.
He denied the allegations by Faryal of violence and called them unfounded. He said that if there was any physical abuse as she alleged then there must be some hospital record to back the claim.
Amir Khan and his wife share a house in Bolton with his father, mother Falak, brother Haroon, 25, and sister Mariyah, 19.
'I told her to take dupatta but she never listened'
Speaking exclusively to Geo News, Amir's mother Falak said she once asked Faryal not to wear such clothes but she did not listen.
"I asked her not to wear such dresses and to take the dupatta (scarf), but she never listened. After that, we asked Amir but he told us to convey this to Faryal's mother because she does not listen to him either," she said.
Falak Khan said that Faryal did not mix up much with the Khan family. "One day she will also complain that Amir Khan abuses her," said the boxer's mother.
Also read: I was bullied for three years, claims Faryal Makhdoom
Amir breaks silence
Earlier, Amir Khan broke his silence over the statements made by his wife Faryal Makhdoom against his family members. Amir Khan in an apparent attempt to brush off the subject as inconsequential, said Faryal's comments were taken out of context.
"My wife said something, my sister said something else, these are routine matters," said Amir Khan.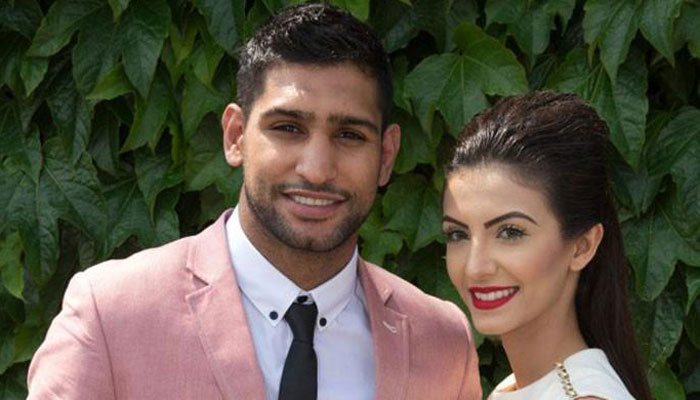 Amir said that he enjoys pleasant relations with both wife and his family.
The entire family saga surfaced last week when Faryal on her Snapchat made emotional comments.
"Don't get your sons married if you're going to abuse and bully the wife. I've always been so quiet but seriously, this message is for everyone! When you bring someone's daughter — treat her as your own. Your son will be much happier and so will you," she had written in a post.
Amir Khan's wife Faryal Makhdoom had said that she was bullied by her in-laws for three years. In an interview to British newspaper Sun, Faryal Makhdoom, 25, alleged that her in-laws cropped her out of family photos, hurled a remote control at her and even slapped her.