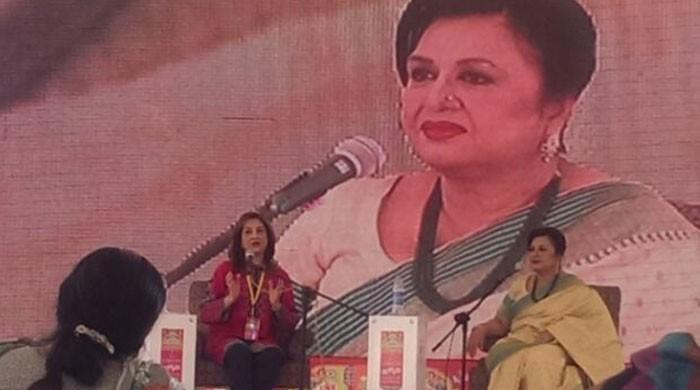 KARACHI: Urdu was not her first language, yet film star Shabnam became the poster girl for Lollywood in the 70s.
In a session titled 'Phool aur Shabnam' at the second day of the Karachi Literature Festival on Saturday, the movie star shared snippets from her life. The session was moderated by actress Bushra Ansari.
The session started with a short documentary film on Shabnam's career. Bushra started the conversation with Shabnam, "How does it feel being back in Pakistan?"
Shabnam responded with warmth. "I cannot explain how happy I feel to be back."
The actress who originally hails from Dhaka was clad in an elegant Sari. "But why did you leave Pakistan?" Bushra asked.
"I worked almost 30 to 35 years of my life in Pakistan, did some really good films. I earned so much respect in Pakistan that I wanted to keep that image while leaving Pakistan."
"My family was in Bangladesh and they also wanted to spend time with me so I left Pakistan. But I can never forget the love which Pakistanis gave me," she added.
Shabnam attained stardom across Pakistan with the box office hit "Chanda" (1962). She was introduced to the Pakistani film industry by 'Chocolate hero' Waheed Murad, who gave her a lead role in his film "Samundar" in 1968.
So how did she cope with the language barrier? Her first film in Pakistan was in Urdu.
Shabnam said that she began learning the Urdu language when she started getting offers from Pakistan, and it took her nearly 10 years to learn Urdu properly.
She added that artists can learn any language but "you need will power and Allah blessed me with his blessings a lot".
Bushra and Shabnam spoke a few lines of Bengali, and the audience applauded. The film actress got so overwhelmed with the applause and love of the audience that she said she thought she should start working in Pakistani films again.
Talking about Shabnam's married life, Bushra asked her about her husband Robin Ghosh.
"The sad part is that I came here alone this time. For 50 years, Robin would go with me wherever I went. When I was coming here this time, I remembered him a lot. This is the first time I've come here without him," she said, as she shed a tear overcome with emotion.
Shabnam said that her husband was very understanding, never interfered in her professional life, and never asked questions when she had to come home late from work.
"Robin composed really good music and I never interfered in his professional work either," she said.
To a question about their son Ronnie, Shabnam said the only thing she regretted was not giving him proper time. "Ronnie suffered a lot because of my professional life," she said.
Shabnam said her mother used to raise Ronnie and whenever she missed him, her mother would bring him to Pakistan. "It is because of this that I never thought of giving birth to another child," she said.
Bushra asked Shabnam about her favourite male actor.
"I have worked with so many heroes like Mohammad Ali, Waheed Murad, Nadeem Baig, Shahid. But Nadeem was my favorite because the on-screen chemistry was so powerful with Nadeem," she said.
"Mohammed Ali was like elder brother and his presence had a profound impact on me," she added.
At the end of the session, Bushra Ansari thanked Shabnam while Shabnam told Bushra that she's her favorite Pakistani drama actress and she watches all her dramas in Bangladesh. The audience gave a standing ovation to the legendry actress.
Shabnam last appeared in the movie "Ammajan" released in 1999. In 2012, she visited Pakistan from Bangladesh along with her husband, a well-known music composer, director, and playback singer, Robin Ghosh, when they both received Lifetime Achievement Awards from the Pakistan Government.