Films are an integral part of the life of a common man. It would be difficult to find a human being who has no love for films or does not idolize a 'hero'. People in Pakistan had the opportunity to be inspired by the 'leading men' of Hollywood, Bollywood and Lollywood for years and years. Let's ponder over the names of the 'heroes of Hollywood' who have entertained us for ages.
At the end of World War II, Hollywood received a new life. Film production was back to normal after years of disruption due to the six-year war. Thanks to US Senator Joseph McCarthy whose theory of 'McCarthysim' continued to damage the industry till mid-50s.
The era saw the rise of youngsters like Marlon Brando, James Dean, Rock Hudson and Charlton Heston while accomplished actors James Stewart, Kirk Douglas, Gregory Peck, John Wayne and Clark Gable continued to dominate the box office.
The shortest but most powerful career span was that of James Dean. Despite living for just 24 years and working in three films, he was a true definition of a rebel. His films 'Rebel Without a Cause' (1955), 'East of Eden' (1955) and 'Giant' (1956) made him an overnight sensation. He became the first actor to receive a posthumous Oscar nomination and remains the only actor to get two posthumous acting nominations.
The actors I have selected from Hollywood have a career span of over 30 years and did a variety of roles, yet enjoyed success are as follows:
Gregory Peck
Peck started his acting career in the early 40s and stretched it till the 80s. Considered equally fit in action as well as romantic roles, Peck was as versatile as they come. At 6 foot 3, with a baritone voice, he had the perfect face for a leading man.
40s: The Keys of the Kingdom, Spellbound, Duel in the Sun, Twelve O Clock High
50s: Roman Holiday, Moby Dick, The Big Country
60s: The Guns of Navarone, To Kill a Mockingbird, Cape Fear, Behold a Pale Horse, Mackenna's Gold
70s: MacArthur, The Omen, The boys from Brazil and Sea Wolves (1980)
Peck died in his sleep in June 2003 at the age of 87.
Charlton Heston
Be it a prophet, an astronaut, a gladiator, a cowboy, a pilot, a pirate or an army officer; 6 foot 3 inch Charlton Heston has portrayed them all. He rose to prominence from Cecil B DeMille's 'The Greatest Show on Earth' in 1952. DeMille's 'The Ten Commandments' made him a superstar where he portrayed the role of Prophet Moses. William Wyler's 'Ben Hur' gave him his first Academy Award in 1960. A heavy voice, a tall frame and blue eyes, Heston radiated energy and demanded attention whenever he appeared on-screen.
50s: The Ten Commandments, Ben-Hur
60s: El Cid, 55 Days at Peking, Planet of the Apes
70s: Escape from the Planet of the Apes, Antony and Cleopatra, Airport 78, Midway
80s: The Awakening, Treasure Island
He was even seen in 1990s in films like True Lies and Armageddon. 
Heston died in April 2008.
Marlon Brando
Brando became the cultural icon of the 50s with his role of 'Johnny Strabler' in 'The Wild One' (1953). A 'method actor', he enjoyed an excellent time in the fifties, but his on-set tantrums took his acting graph to a low in the next decade. Born again in 1972 as Don Vito Corleone in 'The Godfather', Brando enjoyed brilliant eight years he preferred to rest in the 80s.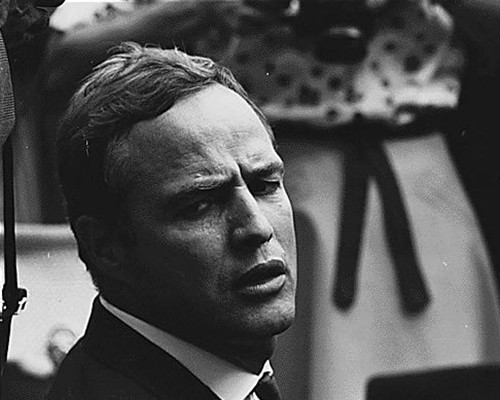 50s: A Streetcar Named Desire, The Wild one, Viva Zapata, On the Waterfront
60s: One-Eyed Jacks, The Ugly American
70s: The Godfather, Last Tango in Paris, Superman I, Apocalypse Now
He was last seen in a short role in the Robert Deniro-Edward Norton starrer 'The Score' in 2001. Brando died in July 2004 at the age of 80.
Clint Eastwood
Clint Eastwood is the best thing to come out of Hollywood. He is an actor, director, producer and a music composer. He shot to fame after Italian director Sergio Leone utilized his talent in the 'Fistful of Dollars', in 1964. The Spaghetti Westerns by Leone changed the concept of Western films altogether. Eastwood's transition to modern-day setting began with Don Siegel's 'Coogan's Bluff' and ended with 'Dirty Harry' in 1971. He turned director the same year with 'Play Misty for Me'. He got two Academy Awards, one for Best Picture and one for Best Director, for his last western to date, 'The Unforgiven' in 1993. In the credits of the masterpiece, Eastwood included a dedication: "for Don Siegel and Sergio Leone''.
60s: Fistful of Dollars, For a few Dollars more, The Good, The Bad and The Ugly, Where Eagles Dare.
70s: Kelly's Heroes, Dirty Harry, Magnum Force, Play Misty for Me, The Gauntlet, Escape from Alcatraz
80s: Any Which Way You can, Firefox, Sudden Impact, Heartbreak Ridge, Pink Cadillac
90s: Unforgiven, In the Line of Fire, The Bridges of Madison County
00s: Space Cowboys, Million Dollar Baby, Gran Turino; directed: Invictus, Mystic River,
10s: J.Edgar, American Sniper, Sully (only directed)
At 87, he is still working and giving directors half his age, a run for their money.
Over the last three decades, there have been a lot of good actors, who are still active and are on their way to becoming 'Legends', like the ones mentioned. The only actor capable of 'the' tag is Tom Hanks, who has been active since 80s and have enjoyed enormous success at all fronts. He has played every role in the book, is quite selective with his work and been around for the longest.