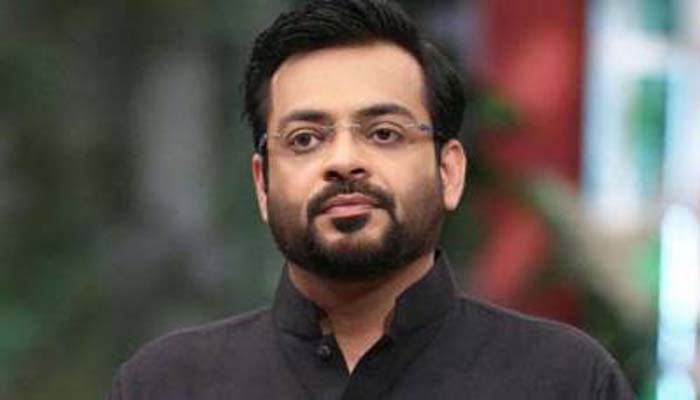 KARACHI: Pakistan Tehreek-e-Insaf's (PTI) Karachi leadership has allayed concerns of party parliamentarian Amir Liaquat Hussain, MNA Najeeb Haroon said on Thursday.
Haroon said they contacted Liaquat after differences between him and the party intensified.
"We contacted Liaquat and he will vote for Dr Arif Alvi in the presidential election on September 4," Haroon said.
A day earlier, Liaquat expressed anger with the party and said he was not invited to a dinner hosted at the Governor House.
According to reports, Liaquat left a group comprising Sindh leaders of PTI over the issue.
However, PTI's Karachi President Shamim Naqvi said Liaquat had no reason to be upset as there was no dinner at the Governor House.
Meanwhile, PTI Senator Faisal Javed said some people were saying things against the party over failure to get a ministry.
"Karachi voted for Imran Khan in both 2013's and 2018's general elections," Javed said while speaking to Geo News.
"Even if PM Imran had nominated a pole instead of Aamir Liaquat, it would have won," he stressed.
Further, PTI MNA Faisal Vawda also flayed Liaquat for his comments against the party and Prime Minister Imran Khan.
However, another leader has also come forward and criticised the party's lack of interest in the metropolis.
Aftab Jehangir, who was elected MNA from NA-252 Karachi West 5, claimed "it does not matter whether it is Karachi or Islamabad, we have always been neglected."
He added that regardless of whether it is a meeting with Muttahida Qaumi Movement-Pakistan (MQM-P) or a visit to the Idara Noor-e-Haq, "no one ever asks about us."
The MNA urged PTI's presidential candidate Dr Arif Alvi to look into the matter.