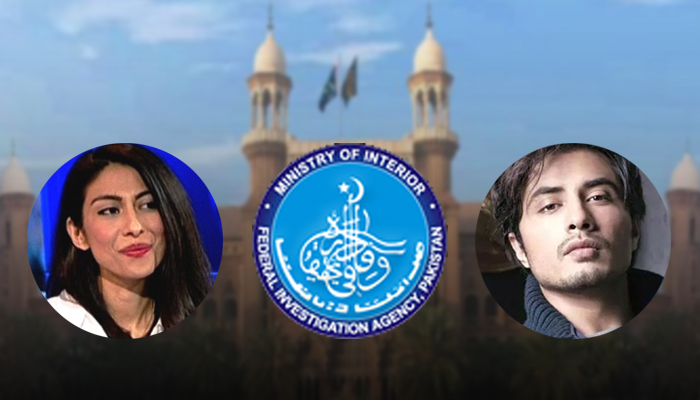 LAHORE: The Lahore High Court (LHC) has ordered the Federal Investigation Agency (FIA) not to harass a witness in the sexual harassment case filed against Ali Zafar by singer Meesha Shafi.
According to official documents, the LHC advised FIA officials to submit a response in this regard, following the petition filed by Leena Ghani, a make-up artist who is one of the witnesses in the harassment case against Ali Zafar.
The legal counsel for Leena, the petitioner, had moved the court, claiming the FIA official was "abusing his authority by summoning her to his office to coerce her to withdraw her name from the list of witnesses submitted by Meesha Shafi in the proceedings between" the two singers.
Also read: The ugly backlash after Meesha Shafi spoke out
In the petition, Leena's counsel also noted that Ali Zafar "is harassing the petitioner in league with Respondents No. 1 and 2 [the FIA and its officials] without rhyme and reason".
The LHC, on the other hand, directed that the FIA official "shall not harass the petitioner".
Further proceedings have been scheduled for September 26, 2019.
The arguments in the harassment case that Meesha filed against Zafar are slated to resume tomorrow (Wednesday).
In April 2018, Meesha publicly accused Zafar of physically harassing her on multiple occasions. Zafar denied the allegations, filing a Rs1 billion defamation suit against Meesha last year.
Following Meesha's accusations against, Leena had thanked her for speaking up and sharing her #MeToo story.
She had said: "Seeing Meesha's courage it's impossible for me to not speak now, not only in support of her but also to say she's not alone."
She had added: "In the many years I have known Ali [Zafar], he has on several occasions crossed boundaries of what is appropriate behaviour between friends. … His behaviour displays a clear lack of respect for women. Inappropriate contact, groping, sexual comments should not fall in the grey area between humour and indecency.
Leena had continued: "Today I speak out because of recent events between Meesha and Ali and today I have to find the courage to say she isn't and has not been alone.
"The memories of the times when Ali thought he could get away by saying vulgar things still disgust me," she had written.
Read more: