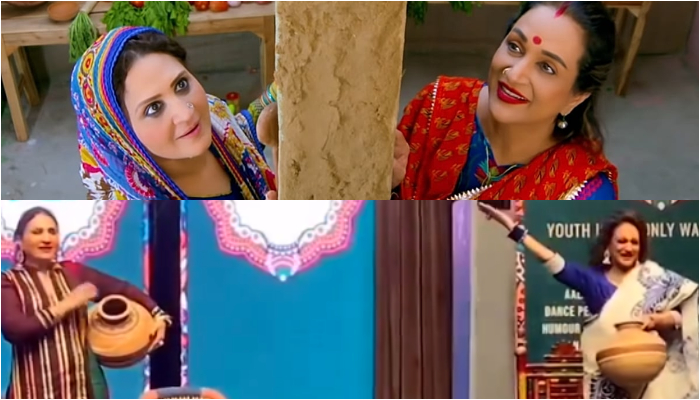 The versatile sister duo Bushra Ansari and Asma Abbas, who were a vital part of the PLF (Pakistan Literature Festival) 2023, performed their hit rap song Humsaye Maa Jaye at one of the sessions of the show.
The three-day festival had a session named Ahmed Bashir Ka Kumba where the two sisters performed the song for the audience. Bushra wore an elegant printed white and blue coloured saari for the event whereas Asma wore a cultural dress while performing the song.
Both Ansari and Abbas managed to pull off their act in the same way as the original video of the song. Both the actresses' expressions were on point.
Song Humsaye Maa Jaye created this rap song in 2019 in order to promote peace between long term rivals Pakistan and India. The Punjabi rap speaks about unity and highlights the cultural similarities of the two countries.

The Annie Ki Ayegi Baraat actress plays an Indian woman in the video of the song while the Qalandar actress plays a Pakistani woman.
Pakistan Literature Festival 2023 (PLF), which is currently taking place in Lahore, is led by a bunch of talented artists and intellects of the country. The three-day festival digs into numerous crucial topics including education, economy, education, art and more.