Har Pal Geo's mega drama serial Hadsa signed off with immense appreciation for its message of strength, resilience, and women empowerment.
The drama followed the struggles and bravery of a rape survivor who, amid all the trauma and pain, fights to overcome the pressures and labels imposed by society on a victim of sexual violence, as well as reclaim her right to bodily autonomy.
The content of the drama has garnered immense recognition among the masses with many praising the content's management with regards to its sensitive plot of narrating a survivor's traumatic tale.
People are particularly lauding singer and actor Hadiqa Kiani for her portrayal of the survivor, with compliments showered on her choice of script and opting for the challenging character, who breaks all taboos to seek justice.
Previously, human rights lawyer Reema Omar also praised the Hadiqa's character on X, formerly Twitter.
"Taskeen (Hadiqa's character) is shown as someone who lives life on her own terms/principles. She refuses to be intimidated by her daughter's fiancé; doesn't bow down before her brother on an issue of inheritance; and speaks openly about women's right to make their own choices," she wrote in her post.
She wrote about the character vacillating between "strength and defeat, reconciling with her own trauma but also feeling responsible for how it's impacting her children."
A viewer of the drama took to her Instagram to share about the "marvellous drama".

"HADSA one of the best drama's I've watched so far! enlightening the topic which is always ignored, waking those women up who are afraid to raise their voice! the cast was just amazing and no one could play this role better than @hadiqakianiofficial! each and every dialogue was worth it!" she wrote.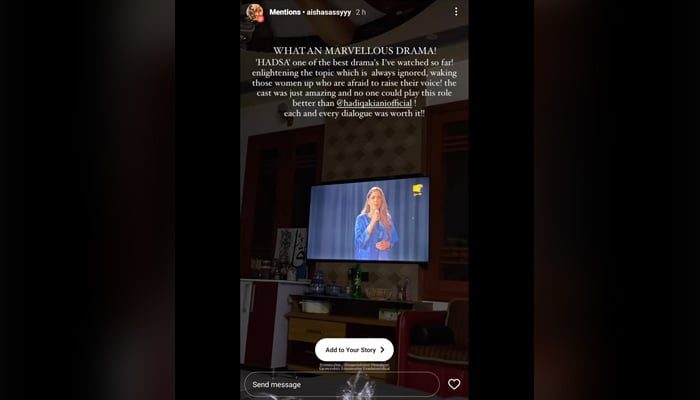 Another mentioned it was refreshing to see a rapist be punished for his crime.
Many have termed it as a "must-watch" drama on Pakistani television.
Reacting to the response received by Hadsa, the drama's producer, Wajahat Rauf, told Geo.tv: "I am overwhelmed, especially to see people's opinions changing after watching the whole drama in its entirety."
When asked how the drama has resonated with the audience, Rauf maintained that Hadsa is not about misery, but about one woman's fight for justice.
"I think people resonated with Taskeen and their posts and comments show that they rooted for her, as she brought criminals to justice with the support of her three children, an efficent law enforcement team and a functional justice system," he added.
The filmmaker said that even though issues such as sexual violence reflect society's ugly side, these evils will not go away if" we choose to close our eyes."
He insisted that Hadsa was an attempt to raise awareness about such issues in through dramas and movies, which his production will continue doing.
"Sometimes, it is taxing and things get sensititve, but at the end, I'd like to believe that we played a small part in doing something good," he said.