KARACHI: In a kaleidoscopic blend of fashion and advocacy, a recent fashion show happened in Karachi, where a Pakistani brand showcased its fall-winter collection of 35 different outfits. 
What makes it intriguing is that these garments were crafted using recycled materials, each with a story woven from used items. Each piece was a chapter, meticulously crafted from recycled materials, telling tales of survival, sustainability, and the triumph of the human spirit. 
From pandemic struggles to the echoes of Palestine, every stitch carried the weight of a narrative, resonating far beyond the runway. The fall-winter collection — a brainchild of visionary designer Parishae Adnan, was more than a mere display of fabrics and designs.
In an exclusive interview with Geo Digital, fashion designer Parishae revealed she organised a similar fashion show addressing various diseases through garments in 2019.
"This time, we've taken on challenges like disability, mental health issues such as anxiety and depression, and shed light on the ongoing Israeli oppression and violence in Palestine through our fashion show," she shared.
Parishae explained that with the inundation of content on social media, one cannot escape the harsh realities.
"We aimed to bring viewers closer to the truth through our fashion show. In a country like Pakistan, where mental health issues persist, and in a region plagued by conflict, there are numerous individuals coping with various illnesses. Currently, we are emerging from the global pandemic, and it wasn't an easy subject to tackle. Through our fashion show, we intended to initiate conversations on all these issues."
She further revealed that they designed four outfits inspired by the global pandemic COVID-19, incorporating black hues to signify social distancing and face-covering practices. 
According to the designer, these outfits were a symbolic representation of the social distances imposed during the pandemic and the act of covering one's face to prevent the virus.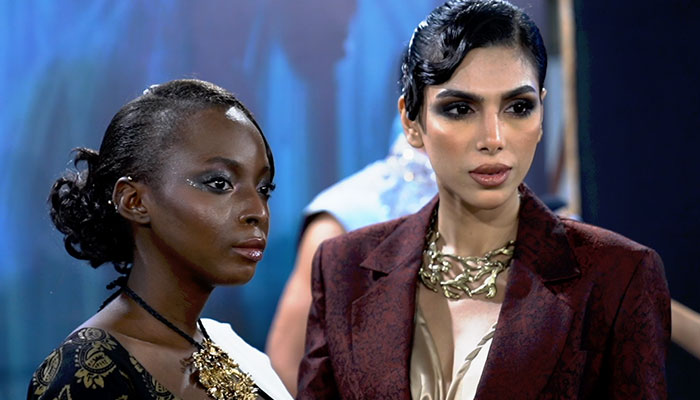 "All these four black outfits were referring to the situation we have faced during the pandemic — we also added a Burqa in these outfits".
She went on saying, "There are garments made by cutting and reusing old lehengas and sherwanis from the past 25 to 30 years. The dress presented during the ramp walk, adorned with pipe ornaments, was crafted by cleaning and repurposing used items. Similarly, the models wore old accessories that had been thoroughly cleaned and reused because we wanted them to be in their original state."
As models gracefully glided down the runway, a poignant moment of silence enveloped the audience, a symbolic nod to the ongoing struggles in Palestine. The runway became a platform for advocacy, where fashion merged seamlessly with a call for global justice. It was a reminder that every piece of clothing can carry a profound message, sparking conversations beyond the realm of style.
Facing the challenge of styling for a distinctive fashion show stylist Tabeesh Khoja, while speaking to Geo Digital, revealed the intricacies of this unprecedented event.
"This fashion show, delving into emotions and experiences, especially highlighting the Palestinian movement and mental health issues, aimed to make styling understandable to the audience. It wasn't about drastically altering something; it was about presenting something not very different but cohesive," shared Tabeesh.
According to Khoja, the intent was to ensure that through styling, the audience could grasp the essence of these significant topics.
The models, stepping into uncharted territory, brought life to a runway that wasn't just about clothing; it was a narrative, a conversation, and a revolution in the world of fashion.
Fashion as Activism: Beyond the Runway Applause
In a stunning display of creativity. The fusion of the traditional with the modern was not just a celebration of fashion; it was an ode to the timeless essence of style.
The applause that reverberated through the venue wasn't just for the exquisite garments; it was for the bold amalgamation of fashion and activism. In a world often overshadowed by superficialities, Karachi's unconventional fashion odyssey stood as a beacon, reminding us that every piece of clothing can be a vessel for resilience, activism, and the celebration of diverse narratives.