Riding high on its scrumptious four-year journey, Karachi Eat 2017 – one of the most-visited and talked-about events of the metropolis – is set to open its doors to foodies on January 13, 2017 at 4:30 PM in the famous architectural landmark Frere Hall.
Speaking to Geo TV, CKO Events Architecture's Omar Omari said, "This time around, we will have 95 stalls at the event, with approximately 70,000-100,000 people expected to visit us during the three days." Karachi Eat 2017 will be offering delicious meals for a three-day period - January 13, 14, and 15.
In a bid to continue improving the experience for Karachi's always-hungry food-lovers, Omari explained that payment and access are two areas where the organisers have worked on. "We are introducing shuttle service from Marriott to Musical Fountain [Chowrangi, near Zainab Market] and between Avari Towers and Karachi Cantt Station."
In addition, Omari noted, "30-40% discounts can be availed by the festival-goers," if they pay via a new app called SimSimWallet, which works in the same way as EasyPaisa. Nevertheless, options to make cash payments are also there.
The event has been a launching platform for various now-famous eateries in the city, such as Chop Chop Wok, the co-founder mentioned. So we can definitely hope for a few more entrants to whip up delectable treats for our taste buds.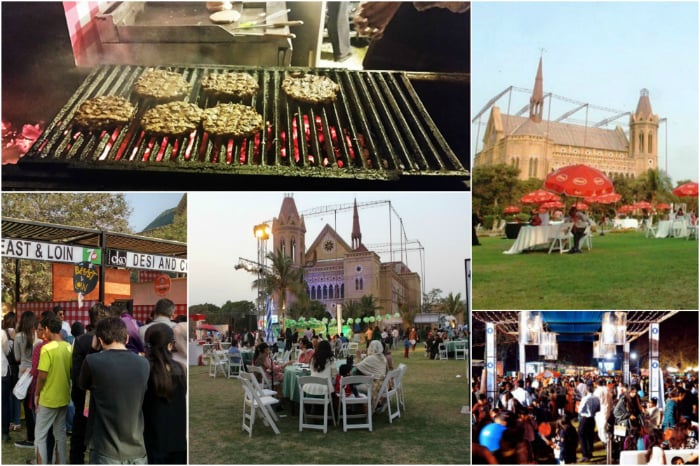 The Chapli Kabab House is confirmed to offer its mouth-watering meat patties, while the D'OH's ever-so-famous Nutella Churros will be a savior for your taste buds with a touch of heavenly chocolate. The Patio's subsidised burgers are always a light pat on the pocket, and nitrogen ice-cream is also something to look forward to. To douse it all (and digest), the artsy Chai Wala will be offering freshly-brewed tea.
Naye Namoonay, with their knack of playing with our hearts – and somehow always winning, will also be present at Karachi Eat 2017 for food-lovers to dive into the unknown, and emerge with grins as they devour newly-whisked experiments.
Talking about the cost of entry, Omari specified that the tickets are priced at Rs. 250, and that no meal will be over Rs. 300 apiece.
Eight famed musicians, including Zoe Viccaji, Fusion, Sara Haider, Sounds of Kolachi, will be performing on the last day of the event – something to look forward to for the music aficionados.
Needless to say, the food gala will not welcome stags or groups of men in order to facilitate a comfortable environment for families to enjoy.
No matter situation – be it strikes, rallies, exams season, VIP movement, or public holidays, the ever-vibrant Karachi-dwellers never say no to food.
So roll up your sleeves, and prepare to dig in.

Picture from Karachi Eat in 2016

Picture from Karachi Eat in 2016