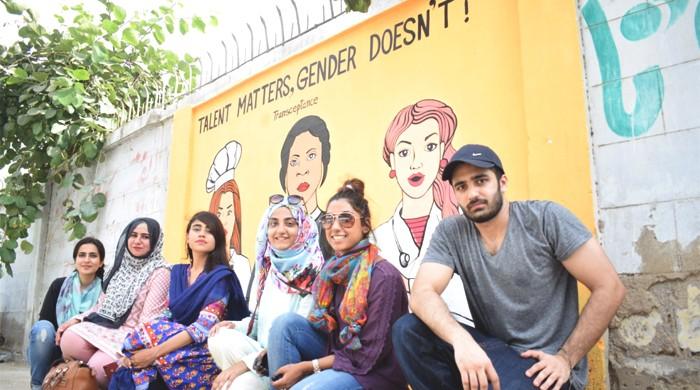 There are umpteen walls and jersey barriers all around Pakistan's biggest metropolis Karachi, but arguably most of them are covered with amateur graffiti, advertisements of private tuitions, fake faith healers, and shrinks, thousands of political slogans, as well as warnings to refrain from treating them as on-the-go toilets.
If some 'canvas' does manage to stay ignored, secluded in a corner or a place not visible to the public eye, it is usually because the paint is peeling off.
While some local groups have taken it upon themselves to beautify these walls and prevent people from taking the cheap way out to advertise and messing up the urban aesthetic, it is a group of students from Szabist who, on Monday, brandished an alternative weapon to promote a cause that has been scarcely talked about.
Turning to a wall right outside their campus, media sciences students Bakhtawar and her team members Rajaa and Sahar took up brushes, rolled up their sleeves, and painted three transgender figures – Somiya, Mohni, and Shilpa – dressed up as a chef, a lawyer, and a doctor, respectively.

(L) Rajaa paints Mohni; (C) Students busy painting; (R) Mohni helps paint the wall mural to raise transgender awareness through Project Rafa – Karachi, Pakistan, May 16, 2017.
Dubbed 'Rafa', the project is a collaborative effort between the university, SubRang Society, and Phool Patti Pakistan's Truck Art Team and is geared towards furthering the cause of transgender people's rights.
"The word 'rafa' has Persian roots and it means welfare," explains Bakhtawar, adding that this is how she and her colleagues intend to push for societal awareness about transgender people, their lives and aspirations, and how they are as human as any other man or woman is.
The aim was to portray them as normal people with ambitions – just that none of the three were able to achieve their dreams because transgender people are shunned by people, the same ones who believe in the 'magic tongue' myth – whatever they say, be it a well-wish or curse, allegedly comes true – and expect them to dance at weddings.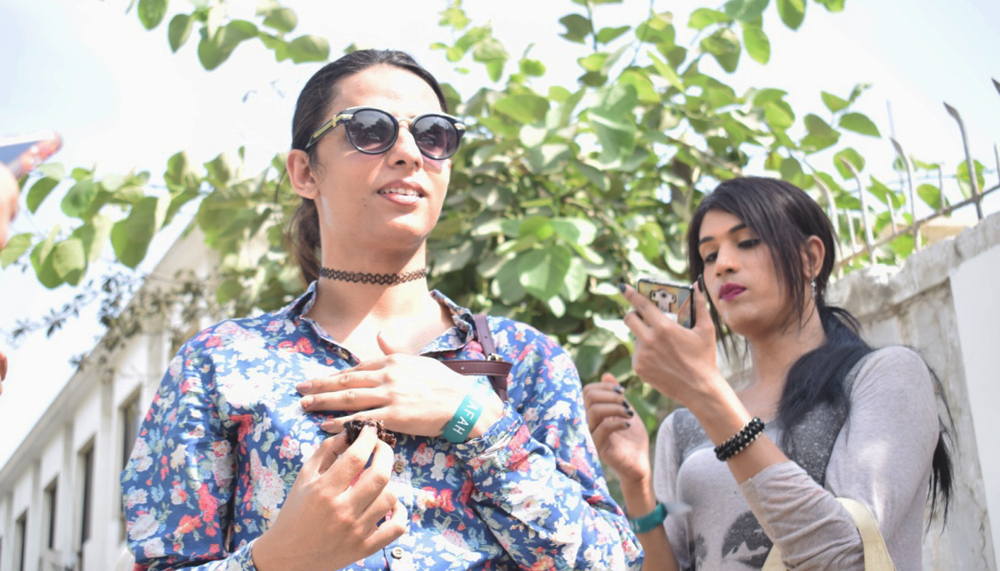 Kami Sid enjoys a slice of cake after students celebrated her birthday during the transgender awareness effort Project Rafa. Karachi, Pakistan, May 16, 2017.
Facilitating the project was Kami Sid, who shot to international fame when she was photographed as the first transgender model from Pakistan. Sid, who was the binding force through her NGO, SubRang Society, stated that she readily agreed and spread the word among her friends and colleagues when the students contacted her.
"It was a few months back that [the students] contacted me, and trust me, I had no idea that it would be this big," Sid told Geo.tv in her nonchalant, drawling voice. She continued, "But the concept was nice as it shows the challenges we face in the corporate world due to society's maligning behaviour."

A volunteer gives the final touches to the mural painted as part of Project Rafa. Karachi, Pakistan, May 16, 2017.
"We can do the job better than men, you know," Mohni chimed in jokingly, standing in front of the mural that proclaims 'talent matters, gender doesn't' with the hashtag #transceptance.
The problem, Mohni explained, is that the community faces strong resistance at almost all aspects of life, bar dancing and begging.
Rajaa agreed with the statement, having spent the past two days working with Sid and her fellow transgender people. She, along with her friend Sahar, mentioned how the state's recognition by allowing a third gender on the national identity cards (NICs) is not the end of the road, but just an opening to a path of rigorous hard work and continuous efforts.
In terms of chances, Shilpa rhetorically asked "We need more and more opportunities. If we don't get those, how can we prove ourselves?"

Students and volunteers pose against the mural painted as part of Project Rafa, while Mohni, Somiya, and Shilpa pose with their respective images. Karachi, Pakistan, May 16, 2017.
Plus, Pakistan has a lot of distance to cover on the road to equality. 
Back in February, a demonstration was staged by the transgender community at Lahore's Mall Road to voice protest against the killing of one of their community members, Muskaan. Neeli Rana, one of the leaders of Lahore's transgender people, told Geo.tv that Muskaan was murdered in her house and complained hurdles in filing a case with the police.
"When we complained, the police asked her to name the culprit. Had we known [the name], we would have given the name to the police," Rana said.
In a hate crime incident in November last year, transgender Shanaya was allegedly tortured in Sialkot and a case lodged against prime suspect Aijaz, alias Jajja, who had reportedly stormed the house of Phool – Shanaya's friend – with five accomplices. They then proceeded to subject Shanaya to brutal torture for refusing to pay protection money.

Mohni joins the students and volunteers in painting the mural as part of Project Rafa. Karachi, Pakistan, May 16, 2017.
In yet another case, Peshawar-born transgender activist Alisha succumbed to gunshot wounds in May 2016 due to a delay on the part of hospital management, which allegedly held up medical treatment saying they did not know which ward to admit her in. The 25-year-old's case then became one of the most-talked-about topics and even caught international media's attention.
Khyber-Pakhtunkhwa Trans Action Alliance, an organisation Alisha was affiliated with, wrote on Facebook, "This will be the first ever janaza (funeral) of a transgender offered publically in Khyber Pakhtunkhwa. Even after leaving this world. Alisha is breaking another myth about the funerals […]."
Torture and murder cases of transgender people often go unreported and suspects often manage to escape punishment if a case does get registered. However, the issue of transgender persons' rights is slowly and sluggishly progressing to a more crucial level, one that it needs to reach for the authorities to be forced into taking action.

Shilpa takes a selfie with Kami as they take a break to enjoy Kami's birthday celebrations during Project Rafa. Karachi, Pakistan, May 16, 2017.
January 2017 brought with it the joyous news of Lahore High Court's ruling that the transgender community for the first time in Pakistan will be included in the national population census. It was the fruit of transgender Waqar Ali's November 2016 petition that based its case on conventions Pakistan is a signatory to and cited disrespect and families disowning transgender children as the rationale.
On the other hand, transgender people in November 2016 started building a mosque for themselves in Islamabad's suburbs, with a capacity of 1,000 people, consequent to Nadeem Kashash's efforts. "In our locality Nurpur Shahan and Mohallah Jajal, there are about 150 houses, but no mosque for them at all. Therefore, we decided to build a mosque of our own about six months ago," he said.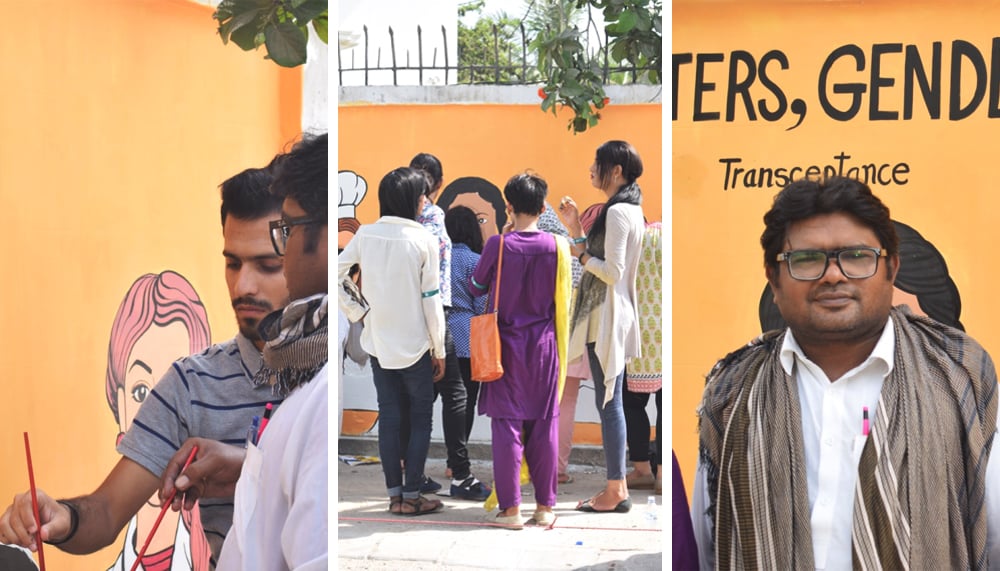 (L) Truck artist Haider Ali and a volunteer paint the mural; (C) Somiya, Kami Sid, Mohni, and Shipa talk while a volunteer paints the mural; (R) Phool Patti Pakistan head truck artist Hair Ali poses in front of the mural painted as part of Project Rafa. Karachi, Pakistan, May 16, 2017.
"Such initiatives need to be more commonplace so that our voice gets heard," Shilpa stressed, adding that it not only helps the cause advance, but also makes the city prettier and gives more engagement opportunities for students and activists alike.
It is noteworthy that the team of students and transgender people were unable to attract any funds for their project, which is why they pooled in money from their own pockets.
"We need this. We need our rights. It is of utmost importance that people open their hearts and change their mindsets. At present, even that is a challenge for us," Sid elucidated.

The final product – Mohni as a chef, Somiya as a lawyer, and Shilpa as a doctor – Karachi, Pakistan, May 16, 2017.
Sid, on her part, is doing whatever she can to assist her community. She broke social barriers and stereotypes when she debuted as the country's first transgender model in November 2016 and dedicated her stunning photoshoot to ending phobia and misunderstanding regarding transgender people.
Moreover, Sid will be starring in Rani – a short film movie that will tackle social taboos surrounding transgender people. She said, "The movie touches on several social issues."
For now, it is just a portion of one wall among hundreds of others that are in the pipeline. "There is so much planned for future. We intend to paint walls with such murals in more important parts of the city, where thousands of people are able to view it every day," Bakhtawar revealed, brimming with hope.
—Photographs by the Author