I remember a question in a social studies exam which asked about the basic necessities of life. The answer was air, water and food, however, for those living in the sub-continent films could easily be added to this list. There have been a few heroes in the industry across the border who stood the test of time. 
Dilip Kumar 
It all began in the early 50s with the 'Dilip Kumar' hair cut. It was nothing but a thick flock of hair falling over his forehead. Born in Peshawar in 1922 as Yusuf Khan, he became an actor by chance. A meeting with the founder of Bombay Talkies, Devika Rani led him to Bombay. He started working in films by mid-40s and eventually became a star when Shaukat Hussain Rizvi's Jugnu became a hit in 1947, just months before the partition of India and Pakistan. Dilip was paired with Nur Jehan, the wife of Shaukat Rizvi.
Shaukat sahib, Nur Jehan and music director Feroz Nizami migrated to newly created Pakistan, but Dilip stayed back. He had to face competition from Raj Kapoor, Dev Anand and Guru Dutt. Raj Kapoor shared the same birth city with Dilip and belonged to a filmi family, yet his career in front of the camera was outshined by his career behind it. Guru Dutt, another brilliant mind (on and off the camera) was stumped by death after giving classics like Pyaasa, Chaudhvin ka Chand, Sahib Biwi aur Ghulam and Kaaghaz ke Phool. Narowal-born Dev Anand started out in the late 40s and acted till he died in 2011, but he was at the peak until the early 70s. He rarely did multi-starcast films and never turned to character actor roles. Something Dilip Kumar learnt who enjoyed his best days as a 'lead' from 1947-1967.
After Jugnu, Dilip worked in Shaheed in 1948, followed by Andaz, Deedar, Aan, Daag, Azad, Amar, Devdas, Madhumati and Naya Daur till 1957. The 60's started out with Mughal-e-Azam, opposite the great Prithviraj Kapoor and ex-flame Madhubala. Later came Ganga Jumna, Leader and Ram aur Shyam in 1967. With the advent of the 'superstar' Rajesh Khanna, Dilip was sidelined for a brief period, yet he returned as a character actor in Kranti in 1980. This time he was more powerful than the 'hero' himself as the stories revolved around him. Crowds thronged to cinemas to watch Dilip sahib in Shakti, Mazdoor, Vidhaata, Mashal and Karma, despite the presence of stars like Amitabh Bachchan, Anil Kapoor, Raj Babbar and Anil Kapoor in them. Dilip Kumar last appeared in 'Qila' in 1998, in the third double role of his career, boasting a career of over 40 years.
Raj Kapoor 
Raj Kapoor, the son of Prithviraj Kapoor and grandfather of current heartthrob Ranbir Kapoor, was part of the movie business for a good forty years. He started his acting career in 1947 opposite Madhubala in Neel Kamal and established R.K.Studios next year. He became the youngest director of his time by making his debut with Aag at the age of 23. Most of his hits were made under his banner, Awara, Shri 420, Jis Desh me Ganga Behti Hai.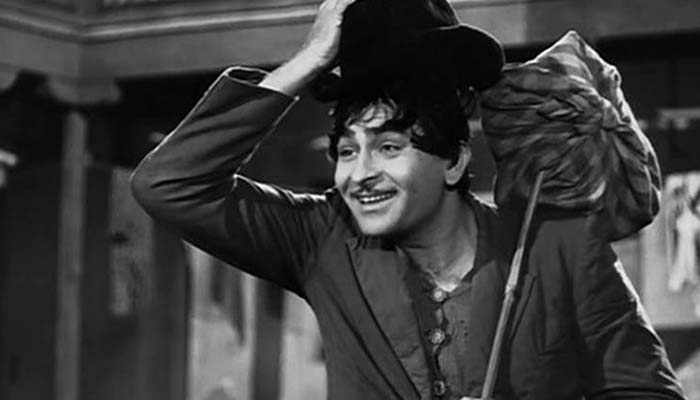 By the early 60s, Raj Kapoor was a successful star with other producers too, until Mera Naam Joker happened. The film took six years to complete and was a disaster at the box office. Raj had to make Bobby, a teenage 'Love Story' in 1973 to cover the losses incurred by Joker. The film launched his son Rishi Kapoor, but Raj literally stopped acting. He went behind the camera and gave beautiful films like Satyam Shivam Sundaram, Prem Rog, Ram teri Ganga Maili and the film that launched Pakistani star Zeba Bakhtiyar Henna, which was in pre-production when Raj Kapoor died in 1988.
Amitabh Bachchan 
Megastar Amitabh Bachchan decided to join the film industry at the worst possible time. Ruled by Rajesh Khanna, who had his own team of writers, music composers, producers and even fans, someone who was 'too tall' by Bollywood standards, he was chasing a wild dream. After a string of flops in the early 70s, he was pitted against Khanna in Anand (1971). With his unconventional style, he walked away with the limelight. A deep baritone voice, dark features and 3 inches over 6 feet, Amitabh may have been good for a cricketer, but actors were not like him back then. Amitabh Bachchan's first hit Zanjeer was released in 1973, and the young angry man was born. He was seen fighting against the corrupt mafia, throwing punches at the bad guys and emerged as someone who was not in need of songs to glorify his character.
Next came Namak Haraam, where he successfully ended Khanna's reign from 1969-1973. Salim-Javed, the dynamic duo comprising of Salim Khan (father of Salman Khan) and the legendary Javed Akhtar, made a star out of Amitabh by writing films like Deewar, Sholay, Majboor, Trishul, Kaala Pathar and Dostana. An accident on the sets of Coolie in 1982 nearly cost him his life, but he survived and continued to give hits till 1992. He took a break from films, but his comeback turned out to be a failure in presence of much younger actors i.e. Khans. 
Amitabh shifted to TV, put on a beard and hosted Kaun Baega Crorepati in his trademark style and the rest is history. He was back in films and equally successful in character roles. Mohabbatien, Baghban, Khakee, Black, Sarkar, Cheeni Kum, Paa, Bhudda hoga tera Baap and Pink are just recent examples as to why Bachchan senior hasn't lost his touch.
The Khans 
Since the early 90s, the race for the 'Best Khan' has been on, but Aamir Khan has clearly been dominating the scene for the last ten years or so. Shahrukh Khan's magical reign ended in 2007, while Salman Khan just turned mature with films like Sultan and Bajrangi Bhaijan. Since Lagaan, Aamir Khan has been part of movies which have the power to attract audience in a decent way. Rang de basanti, Dil Chahta hai, Peepli live, Taare Zameen pe, Jaane tu Ya jaane na, Ghajini, 3 idiots, Talaash, Dhoom 3, PK, Dangal and most recently Secret Superstar, Whenever the history of Indian film industry is written, all these actors will surely have a separate place.
The first part of this article can be read here