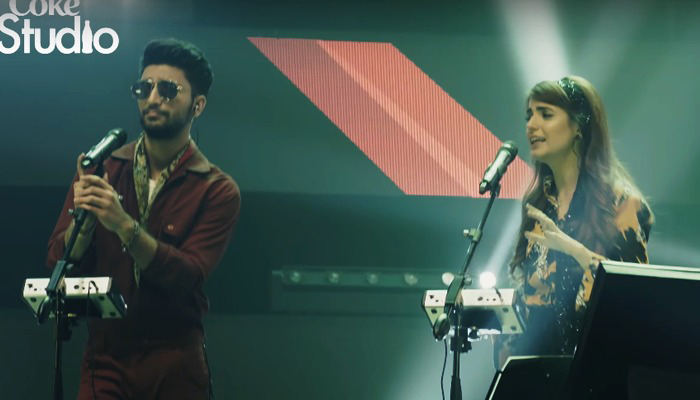 It seems that time to maintain silence and composure is over for singer Momina Mostehsan, after her and Ahad Raza Mir's latest rendition of legendary song "Ko Ko Korina" received harsh criticism even from the human rights minister, Shireen Mazari.
Soon after Mazari wrote a tweet, pitching her unfavourable two cents on the new song, Mustehsan's retorted to the minister's criticism, asking her to "appreciate Coke Studio for allowing artists to express themselves".
After Momina Mustehsan tried to convey the 'social responsibility' to the human rights minister, Mazari shot back saying that her ministry had nothing to do with her opinion.
PML-N leader Marvi Memon also took sides with political rival Mazari in this online battle.
The cover, which marked Mir's singing debut, was recently aired on Coke Studio Season 11 and, despite the Yakeen Ka Safar actor and Momina's stardom, it did not go down well with fans.

Several, including Minister for Human Rights Dr Shireen Mazari, are among those who took to Twitter to slam and question the rendition.
Mazari wrote: "Horrendous! Destroyed a great classic - why oh why did Coke Studio allow such a massacre of this classic song?"
Hailed as Pakistan's first pop-song, Ko Ko Korina, which was originally sung by pop-singer Ahmed Rushdi, is cherished by millions across the country. 

Here's how social media users reacted to the Coke Studio rendition: