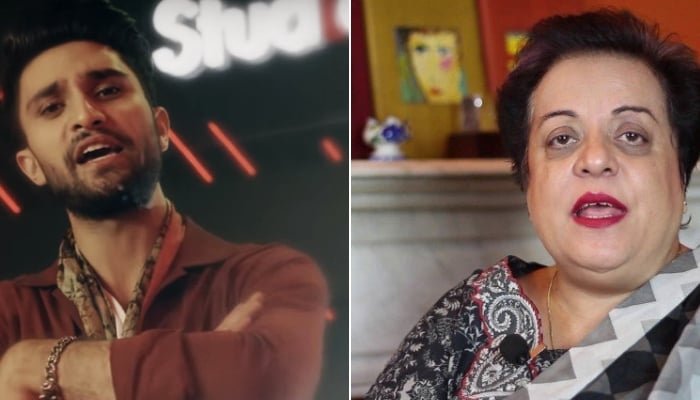 Actor Ahad Raza Mir who made his singing debut with a rendition of "Ko Ko Korina" at Coke Studio Season 11, has responded to the backlash and negative reviews he and Momina Mustehsan have been receiving.
In a series of tweets, the actor said he is taking it "all very positively" and thanked HSY, Mustehsan, and Coke Studio.

Ahad also responded to Human Rights Minister Shireen Mazari's criticism of the song which led to a Twitter spat between her and Mustehsan a day earlier.
The actor started off by saying, "So there has been a lot of talk about a certain song. So lets do just that. Talk about it."
"I am honoured that I got to cover Ko Ko Korina. Some people enjoyed it and some not to so much, which is fair. Look at how we love to appreciate and criticize. It shows our nation is alive. Even after hearing the song — pun intended," he continued.

He then went on to say, "I loved the way everyone got together to talk about the song. I've seen all the memes and I have to say they're hilarious. Just shows the fantastic sense of humour of this nation. Trust me I take it all very positively."

"I am also very grateful. Grateful to people like HSY who openly appreciated our efforts and has always been a supportive light in our industry. I am thankful to Momina who dared to work with a newbie to Pakistani music.
"Most importantly I want to thank CocaCola who gives opportunity to youth, to new faces, who promotes experimentation which our country needs and who dares to do things in their own style. Coke is almost a pioneer in taking risks in Pakistan. Let's not forget its COKE Studio."

Turning to Mazari, Ahad wrote, "I am also pleasantly surprised that the minister of human rights noticed our attempt, although she did not have very nice things to say, I'm still happy she noticed. Just a piece of advice: better choice of words next time Ms Minister."

"Ms Minister you represent a party that wants to bring change, supports youth and new ideas in Pakistan. The reach and duty of human rights promotes a caring approach to life. Don't "massacre" its meaning. You represent human rights in our country. Think about what that means," he added.

The actor continued, "Really all I'm trying to say is that we should learn to be kind. Even in our criticism. Trust me it goes a long way. Our song was a cover, and a cover is meant to deviate from the original. Its not supposed to sound or feel the same. And at the end of the day...it's a song."

Ahad also called for respect for artists. "Also lets respect our artists. All of them. Every time an artists works...they take a risk. Not for themselves...but for you. Trust me when I say we work hard for YOU. Not for ourselves. Want to criticise.. do it with love. Works better and definelty doesn't hurt as much."

"So lets remember something. If we can come together to hate something, we can do the same to love. Take that however you'd like. Lastly to everyone that appreciated the song, I am honored and now will work twice as hard to gain the confidence of my critics. Love you as a nation," he concluded.

A day earlier, Mazari tweeted: "Horrendous! Destroyed a great classic - why oh why did Coke Studio allow such a massacre of this classic song?"

The cover, which marked Mir's singing debut, was recently aired on Coke Studio Season 11 and, despite the Yakeen Ka Safar actor and Momina's stardom, it did not go down well with fans.

Earlier today, actor Sajal Aly spoke against the criticism of the rendition and posted on Instagram saying, "Three days and counting and it's still all about Ko Ko Korina. Love it or hate it, your call but you don't have to go to town insulting someone's efforts."

"It's only a song. Sing along or change the channel. We, as a country, have far more important issues to debate," she added.