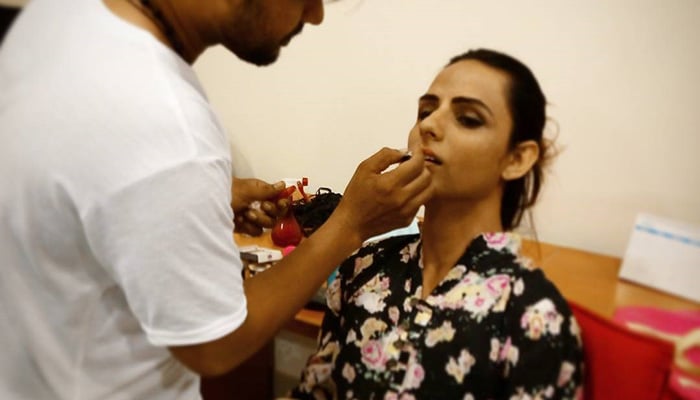 "Kami, did you touch my lipstick? You have ruined the shape! I found this color after such a hassle! Let father get back home, I will tell him what you did. Even our elder brother complained about you to mother. He saw you loitering around with strange people yesterday. Today you will have to answer to father!"

Such scenes are an everyday occurrence for transgender in Pakistan. And so they were for Kami Sid, who is now proving her mettle on different platforms.
Just a few days ago, Sid, who is a model and actor, starred in her first film Rani, which has bagged an international award. At the NBC Universal Short Film Festival, the film's writer and director Hammad Rizvi was given the 'Outstanding Writer' award.
"I was lucky to have played Rani," Sid said of her experience. "I got the chance to walk the red carpet and attend such a huge film festival. Has any other transgender had this opportunity?"
Sid was surprised at the love and respect she received in Bollywood and in Los Angeles. "I want to prove myself as an actress," Sid said determinedly. "I don't care whether I'm working in Hollywood, Bollywood or Lollywood."
Kami Sid maintains that the film is an apt portrayal of society's myriad issues, and it handles the sensitive topic very delicately. "The story was full of life and the characters were powerful. When the story and direction is powerful, the characters come to life. This is why the film won an award."
Sid says that transgender are beautiful and talented—they just need the right opportunity to shine.
Yes, transgender are physically different but that is not their fault. Yet, for their families and friends, they are more like a source of entertainment and less like a human. At the age when they are most in need of love and reassurance, they have to face rejection, scolding, and hardships. Scared and exhausted of the constant ill will, most of these children run away from home.
The world outside is no less harsh. They are either subjected to pity or mocking. Some of these transgender then decide to carve out a different path for their lives.
As a child, Kami Sid was active and confident. Whether it would be a school play or a milad or singing the anthem on Pakistan Day, Sid would be at the forefront. This confidence spurred her on to become an activist, and later a model and an actor.
For Sid, it was a difficult decision to move towards acting from modeling. "Previously I had worked with Grey Scale on a few documentaries, but acting is an entirely different ballgame."
Sid thinks that Pakistani American director Hammad Rizvi did an excellent job with the film. She believes it is better than 'Khuda Mera Bhee Hai', a television serial aired on a private channel in which Ayesha Khan played the role of the mother of a transgender son.
"When Imama Nasir, the project director at Grey Scale, contacted me and first offered me the role, I refused it. I didn't think I could do justice to it," Sid muses. "But they were adamant and, despite auditions with other transgender, the director wanted me in the lead role."
Sid was lucky to have not just a supportive family but also mentors who guided her towards success. Because of her family's educated background, she did not fall into the wrong hands. Today, be it a film screening or a conference in London or a literature festival in Karachi, Sid is sent a special invite and asked to attend.
The 27-year-old did not reach here without a struggle. Education was her weapon, and she advises all other transgender to study hard, no matter what. She is fond of dancing, but that is not her future. Instead, acting and modeling are now her chosen professions.
Sid thinks that things are becoming better for her marginalised community. Transgender rights are being discussed on a national scale, and 13 transgender took part in the 2018 general elections. TV serials are being written about them, but there is still a long way to go. Awareness campaigns are the need of the hour.
Sid is part of a Beaconhouse campaign where schoolchildren are taught that transgender are not cripples and that it is not weird to be one. They need the confidence and encouragement of society and of their families.
With the same campaign, Sid hopes to help parents and teachers in providing better solutions to the educational and emotional needs of these children. In this way, she hopes to change their lives.
Kami Sid has indeed been successful in presenting a positive image of Pakistan. "I love my community," she says. "Not just the transgender community in Pakistan but all over the world."