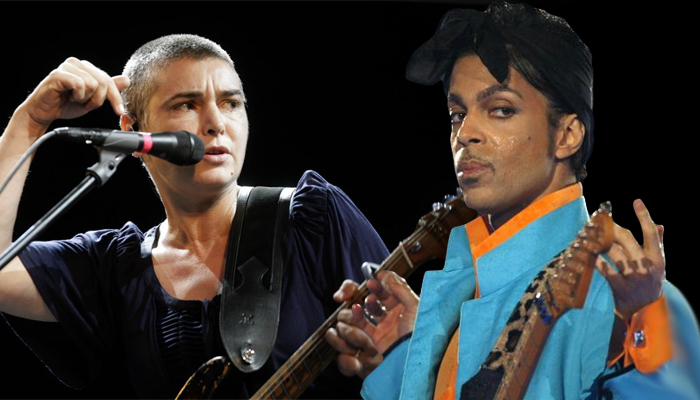 Irish singer Sinéad O'Connor on Monday alleged that "Prince tried to beat me up" as she spoke on the Piers Morgan-hosted Good Morning Britain (GMB) show, talking about her clash with the late American musician and how he broke the ribs of a woman member of his band.

At first, Morgan and his co-host, Susanna Reid, seemed to think O'Connor was joking as she said: "We did meet once, but we didn't get off well, we tried to beat each other up."
Morgan and Reid responded, saying: "Really? Tried to beat each other up?"

The Irish singer — who was wearing a rainbow top — then explained that "it was more like he tried to beat me up and I was defending myself. Oh, it's not a joke, no, it's not a joke at all, it was a very frightening experience actually."
Noting that it was in Los Angeles, she termed the encounter with Prince — who died in April 2016 — as "a very frightening experience".
O'Connor mentioned: "He summoned me to his house one night and I foolishly went alone not knowing where I was and he summoned me there because he was uncomfortable with the fact I wasn't a protégé of his and that I'd just recorded the song and he was wanting me to be a protégé of his and he asked, told, he didn't ask but he ordered that I don't swear in my interviews.

"Like Irish people swear all the time, of course, I told him where he could go and he went for me. He went upstairs and got a pillow and he had something hard in the pillow. He chased, I ran out of his house, hiding behind a tree.
"We meet on the highway in Malibu at five o'clock in the morning — I'm spitting at him, he's trying to punch me. He's got something in the pillow he's trying to hit me with. We're running around in his car and I'm spitting across at him and then I had to go ring someone's doorbell, which my father always told me to do if I was in a situation like that."
The singer — who also sang the hit cover of Prince's song "Nothing Compares 2 U" — said Prince "was into some pretty dark drugs at the time" but that their altercation ended with "me ringing the doorbell and he left". She said: "The problem was that my manager at the time, Steve Farinelli, who then died some years had been Prince's manager and they were suing each other. So I think I got caught up somehow."
According to the Independent, O'Conner — who converted to Islam in October 2018 and changed her name to Shuhada' Sadaqat — further said she was not the only one Prince went at as "one of the girls in his band was in the hospital with broken ribs at the time".

The Irish musician, however, went on to claim that Prince assaulted "plenty of women out there" but appealed to them to step up and share their stories.