Taylor Swift probably has some bad blood with Olivia Rodrigo.
The Grammy-winning artist announced her first round of international tour dates for The Eras Tour on Friday morning, June 2nd, 2023, via Instagram.
"Really thrilled to tell you this!! Mexico, Argentina and Brazil: We are bringing The Eras Tour to you this year!" the singer wrote in her IG post. "Sweet angel princess @sabrinacarpenter will be joining us on all of the shows! Lots more international dates to come soon, promise!"
Carpenter, 24, also shared the news on her own IG handle, "trying to process this but alas i shant."
She added, "CANT WAIT TO JOIN THE ERAS TOUR IN LATIN AMERICA thank u @taylorswift u the 1 :') this is a dream come true."
Fans have speculated that Rodrigo's hit song Driver's License was about Carpenter a who started dating her ex-boyfriend Joshua Bassett, 22.
Now, the Eras Tour announcement seemingly fuelled rumours that there might be beef between Swift and the Rodrigo, 20.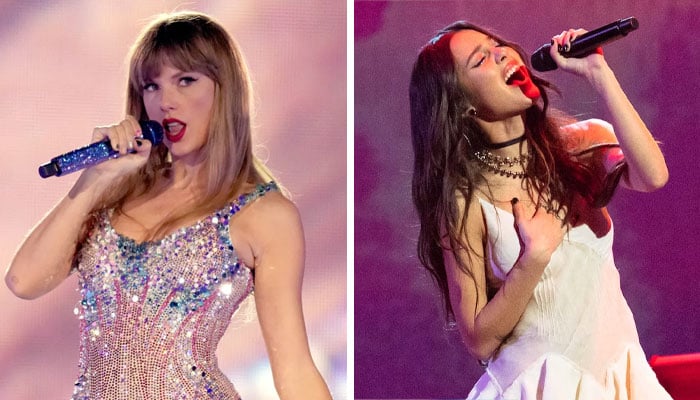 Rodrigo was famously a major fan of Swift's since she was a young girl and even shared her excitement when the Anti-Hero singer gifted the her a ring in March 2021, via Page Six.
But things went sour after Swift and music producer Jack Antonoff were given writing credits on rising popstar's song Déjà vu from her album, Sour, which she shared had been influenced by the Blank Space hitmaker.
A TikToker then pointed out that Swift and Rodrigo didn't take any photos together at the 2023 Grammys even though they both attended.
"But she does take photos with Sabrina Carpenter who's been publicly referred to as Olivia's 'frenemy.' So all in all, there's no solid proof that the two are in a feud, but for them to go from being so supportive publicly of each other to nothing, definitely has me curious," TikToker Thickbrunette66 said in a video posted in May.
While there has been no official confirmation regarding the feud, the recent announcement seems to imply that Swift may have taken sides.