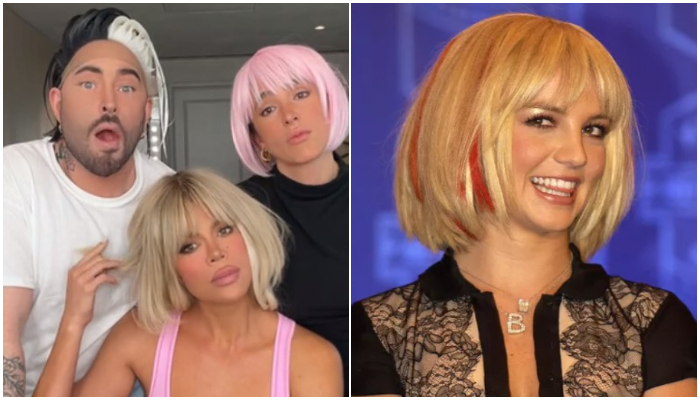 Khloé Kardashian has recreated a viral Britney Spears moment in a new TikTok clip. The The Kardashians star, aged 39, donned a blonde bob wig and pink tank top to reenact Spears' iconic Pepsi moment from the singer's 2003 CNN interview.
In the chat, interviewer Tucker Carlson questioned Spears, aged 41 and known for her 2001 Pepsi ad, about her soda consumption.
The video began with a voiceover from the host, who asked Spears, "Candidly, just between you and me, how much Pepsi do you drink on an average day?"
In the video, Kardashian was accompanied by hairstylist Andrew Fitzsimons and makeup artist Ash K. Holm. She mimicked Spears' iconic interview moment by twirling her hair and pretending to chew gum while seated.
The trio then lip-synced Spears' response, "I really do like Pepsi!"
"Really?" the voiceover of Carlson said, before Kardashian mouthed Spears' reply, "I really do."
"What's your favorite kind?" Carlson's voiceover went on to ask. Kardashian then lip-synced Spears' answer: "My favorite kind of Pepsi? Pepsi's Pepsi."
"What, you don't drink Diet Pepsi, or ..." Carlson's voiceover added.
"No, just, reg, just reg— regular Pepsi," Kardashian mouthed Spears' answer from the 2003 clip.
Kardashian's playful video impersonating Spears follows a sweet interaction between the two last year. The Toxic singer praised the reality star for being an inspiration for her look.
Spears took to Twitter to express her admiration, calling the youngest Kardashian sister "beautiful" and sharing a photo of Kardashian wearing long, curly blonde locks.