Britney Spears fans are going wild as it has been revealed that her 2002 movie Crossroads will be heading back to theatres at the end of October 2023 as a tribute to the singer ahead of her memoir release.

According to The Hollywood Reporter, the hitmaker's movie starring Zoe Saldana, Taryn Manning, and Kim Cattrall will be re-released in theatres on October 23 and October 25 in celebration of Spear's memoir release.
The highly anticipated Spears' memoir The Woman In Me will be released in between two dates October 24, 2023.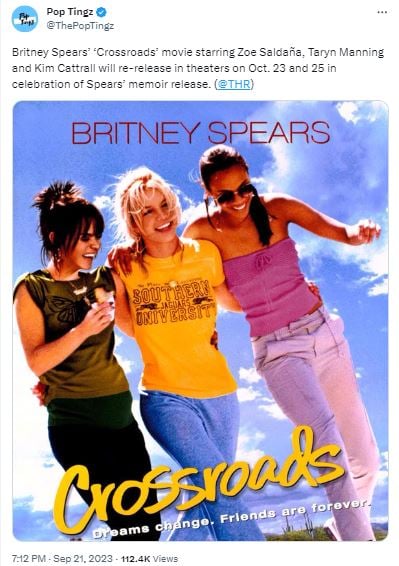 The Blast reports that the movie is returning in cinemas as part of a fan event from Trafalgar Releasing, Sony Music Entertainment, and RCA Records in 875 locations across 24 countries.
The re-release of Crossroads will also include the release of movie-themed merchandise (limited edition) featuring recreations of apparel worn by actors in the movie.
The movie originally screened in 2002, was directed by Tamra Davis and amassed a total of $61 million in revenue at that time.
The director recalled the movie-making process saying, "We had the best time in the world making this picture." Tamra hailed Britney, saying the songstress is absolutely breathtaking to watch in the movie.