Karachi Eat, the hottest events of the metropolis, is about to start in a few hours, and we can't wait for it.
While food and Karachiites go hand in hand, many of the festival-goers have faced inconvenience in terms of commuting and traffic over the past few years the event has been running.
On Wednesday, Geo.TV reported that payment and access are two factors that the organisers have paid special attention to this time in order to facilitate a delectable experience for the attendees.
"We are introducing shuttle service from Marriott to Musical Fountain [Chowrangi, near Zainab Market] and between Avari Towers and Karachi Cantt Station."
Geo.TV sat down with CKO Events Architecture's Omar Omari to discuss the traffic plan for Karachi Eat 2017, and what has been done to make the process smoother this year.
"It's the biggest food event in Karachi, so naturally there's a lot of rush. That's why we have taken Careem on board with us," Omari said. Karachi Eat 2017's management advises the foodies to opt for the ride-hailing service over private transport in order to dilute the vehicular flow on the roads.
Omari noted that food-lovers from anywhere in Karachi can use Careem to reach Karachi Eat 2017 by paying a flat rate of Rs. 250 via promo code: KARACHIEAT2017.
Also read: Karachi Eat: Four not-to-miss eateries
Barricades have been set up on the main road turning into Frere Hall from the Marriott Hotel side so that there is no traffic jam at the gate to the food gala. Instead, people will be encouraged to walk in after parking their cars far from the venue.
"Last year, there was a lot of commotion when certain people claiming to be VIPs badgered us to let them pass through. It turned into an argument of sorts – and we don't want that – so we have made that passage pedestrians-only for the duration of the event," Omari explained.
Adding to the large number of cars at the event is the fact that Abdullah Haroon road has two lanes. In this regard, Omari mentioned, "We have spoken to the traffic police about that, and we have their cooperation. […] There can be no solution for congestion at such an important road, so we have to do the best that we can."
The event's launch, set for 4:30 PM on Friday, is scheduled in a way so that it doesn't coincide with the rush of Friday prayers. Omari stated, "We will start after the [Friday] prayers so that people can relax and then come to our event." He added that since it is a working day, the majority will turn up after 5 PM when people return from their offices.
"The highest number of visitors is on Sunday. In 2016, we had 18,000, about 22,000, and 35,000 people on day one, two, and three [Friday, Saturday, and Sunday]."
The floor and stall plan is as follows: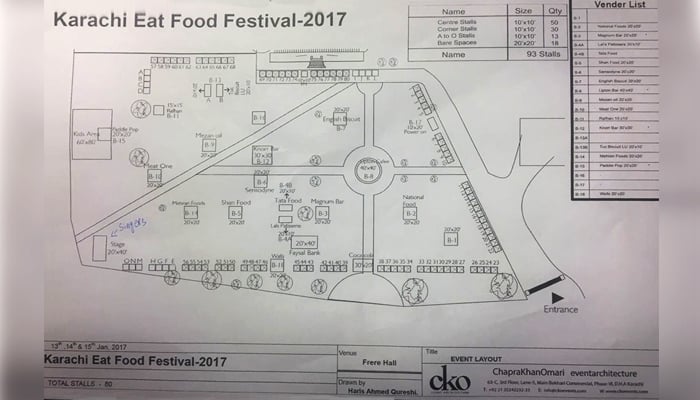 Karachi Eat Floor Plan