Geo.tv's Khalid Hameed Farooqi sits down to chat with Anzhelika Tahir, a model with Pakistani roots based in Ukraine and who holds the Miss Pakistan World title.
Geo.tv: Anzhelika, thank you for meeting us. Let's begin. How and when did your modelling career begin?
Anzhelika: Oh, thank you very much for inviting me and I'm glad to be here and talk to you today. I started my modelling career when I was 16. There is a day in your life when you think 'that's what I want to do' and, so, I had one of those moments. I really wanted to fit in the entertainment business and, at that time, I assumed modelling suits me the best. 
I started to work with photographers, making a portfolio for myself, but soon started to think about my career in global terms. Somehow, the idea of the pageant came to my mind and I thought that it would be a really great idea if I could participate in the Pakistani pageant.
Also, I know that the Ukrainian pageant industry is already quite big so I checked and researched and found that there is a Pakistani pageant called Miss Pakistan World, of which Sonya Ahmed is the director.
I checked what I needed for that … the kind of documents I need to prove that I'm Pakistani and, in the end, I just decided to give it a try. I'm really happy that it happened because, on October 31, 2015, I won Miss Pakistan World. That really changed my mind and my life as a whole.
Geo.tv: What about your parents? What was their response and reaction like? Did you face restrictions or limitations?
Anzhelika: Well, my parents supported me in every way that they could. I come from a mixed family — mother is Ukrainian, father Pakistani. I mostly live in Ukraine with my mom, while my dad is in Pakistan. He has another family and so does my mom.
Anyway, since we are keeping our multicultural family together, I'm in touch with both of them.
They are very supportive. They have never restricted me in any way and whatever I do, they are happy with it.
Geo.tv: How did you find a way to participate in the Miss Pakistan World?
Anzhelika: If you have a dream and a goal, I think that you have to find a way to get it. That's what I've been doing my whole life. Once I found out about the pageant, I started to think about getting there.
I provided documents that showed that I'm a person of Pakistani origin and started to prepare for the pageant with dresses — a national outfit — with a talent round and everything. Preparation was very serious for me because I really had a goal and I wished to win it.
When I contacted the organisation of Miss Pakistan World, they provided me with all the information I needed. Then I purchased a ticket. The year I took part in Miss Pakistan, it was held in Toronto, Canada.
I hadn't been to Canada and wanted to travel and, secondly, the language they spoke during the pageant was English.
Geo.tv: What about fashion shows in Pakistan? Have you thought of participating in any of them? And what about the restrictions there?
Anzhelika: Yes, the Pakistani fashion industry is a fast growing one and there are a lot of local brands. There are a lot of models and the industry itself is quite big as well.
I would like to work there but I consider myself more of a global person and I cannot stay in one place for a long time. I may consider coming there and working for a project but not full-time.

I would say it definitely has restrictions in terms of dresses and stuff. But it is not that you can't put something on. It is because the industry is built on certain kinds of dressing and outfits. They prefer their traditional outfit.
Geo.tv: You have participated in a series of fashion shows. What were your emotions like? Did it motivate you to go further?
Anzhelika: Of course! I get a lot of motivation from the things I have achieved in my career. Honestly, I can't describe the feeling when you're on the stage... preparing for that moment for a few months and then you're having that camp during the pageant. And I'm really glad that I'm bringing those achievements, not only for myself but to my nation as well.
Geo.tv: Can you tell us a little about the atmosphere behind the scenes?
Anzhelika: Usually it's very lovely. We [participants] become friends and it's really cool. I'm really trying to promote this type of lifestyle. And it doesn't really matter where you're coming from: from a small village, from a big town, or from a major city. It doesn't matter how much money you have. No one at a pageant cares about those things.
When you see all these ladies coming from all around the world and they're representatives of their countries. All of them are quite interesting and intelligent. It's rare to see someone badmouth a fellow participant.
When I'm travelling abroad, I call up some of my friends and ask them to take me around.
Geo.tv: Comparing world competition with that between contestants of any one country, what's the difference?
Anzhelika: Well, the world competition is very different... it's on a different level. It's like you come from your secondary school to a high school. Everything is different.
It's not about manners but before coming to the world competition, you get trained. Countries that have big pageant communities include Philippines, Columbia, Ecuador ... there are many of them ... and girls who achieve the national title get trained in the camp before going on to the world-level. Their training usually lasts two to three months, and only sometimes, it goes for a year.
Geo.tv: For the World Pageant's talent round, how did you impress the jury?
Anzhelika: I danced but I'm not very talented in that because I've never danced professionally. The trick about the talent during a beauty pageant is that it is not restrictive but more about the show and how you prepare for the stage.
I remember that a choreographer told me: "If you don't feel that you can participate in Las Vegas during the big show with the kind of the thing you have prepared, then you're failing because it's not going to work."
So it came to dancing with wings. It's a kind of an Eastern dance where you have wings. I had golden wings and during my dance, they resembled fire.
Geo.tv: Since you've mentioned your career in the movie industry, I want to ask you the following: how did you find the opportunity to star in a film, considering that you don't speak Urdu.

Anzhelika: It all started with pageants. Being part of that platform you meet a lot of people and of course, you get lots of connections which is another good thing about participating in pageants. This is another reason any other girl reading this can apply for any pageant and maybe change something in her life. I've got a manager and she managed to get me a role in that movie.
Not knowing Urdu is not an issue, because in Pakistan, English is another national language and everyone is, frankly, speaking English. So it's okay. My team managed to help me learn my lines. Let's say 50% of my lines were in English, so it wasn't an issue.
Geo.tv: Do you plan to learn Urdu?
Anzhelika: Yeah, I'm working on it. It's a little difficult for me because during the period I was growing up I was speaking English with my dad. I just know a couple of words in Urdu and it's certainly a different language, but I'm working on my skills and believe that soon I'll be an Urdu speaker.
Geo.tv: How would you assess the film industry in Pakistan? Do you consider yourself in it? Or you would prefer Bollywood, or even Hollywood?
Anzhelika: For now, Lollywood is growing. It's so much better than it was before when I just started my career in Pakistan and I'm really impressed: the trailers that I see, the movies that we're waiting for. 
It's pretty amazing. So I'm really looking forward to working with Lollywood. As for Bollywood, of course, there are a lot of actors who are going to work with Bollywood.
But I consider myself a Lollywood actress. Maybe it will happen in the future, but right now I'm looking forward to working with the Pakistani industry and not thinking about anything else.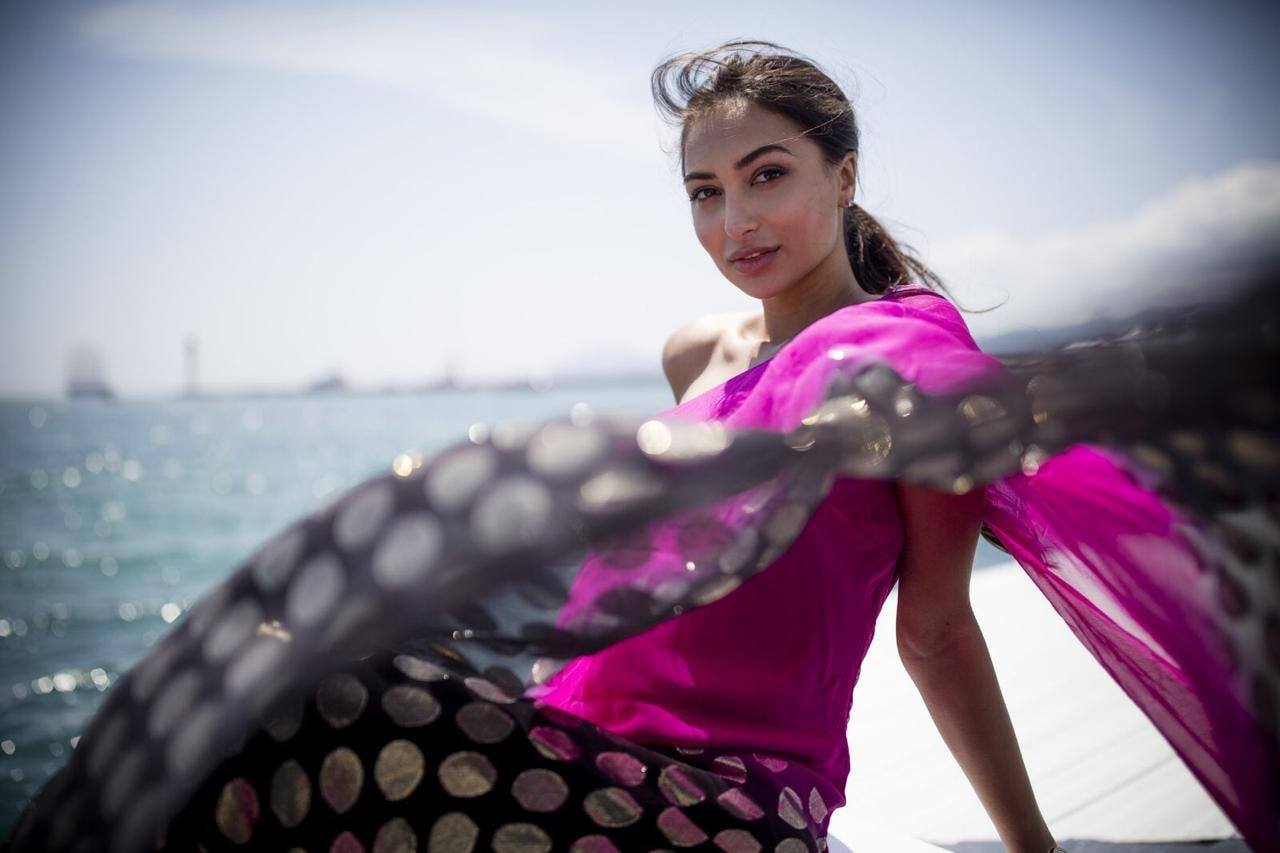 Geo.tv: Do you have any invitations to work in further films?
Anzhelika: Yes, soon. In a few months I'm going to shoot in another movie. It'll be shot in Dubai. It's a Lollywood movie, romantic comedy.
Geo.tv: How was your shooting process during the first film?
Anzhelika: That was an interesting experience. It was shot in Canada, in Toronto as well. I've spent one and a half month there, I think. It was a fun experience, I've really enjoyed it. I enjoyed working with major Pakistani actors, seeing them not only on the screen but also in person. It's a different kind of experience. They talked a lot with me and I really got along with them.
But of course that was my first movie. I didn't know anything about shooting, I didn't know much about the whole process. So I believe that the second one will bring me more success.
Geo.tv: Whom would you like to work with from Pakistani celebrities or maybe Hollywood/Bollywood celebrities?

Anzhelika: In between Pakistani celebrities I like Mahira Khan and Fawad Khan. So I'm looking forward to working with them in the future.
I see how they struggled in the beginning and the long way they went through to get to the point where they are today. And I really appreciate that. They are a role model for many Pakistanis and for me as well.
Geo.tv: Would you recommend girls in Pakistan to start a modelling career with beauty pageants?
Anzhelika: Yes, it's an amazing platform to establish yourself, to establish your career, to get some international fans, connections, to get yourself into the media industry. And its not just the media industry. Many can pursue the further careers even in politics!
Geo.tv: When do you plan to visit Pakistan again?
Anzhelika: Well, I haven't been there for a long time now. But I plan to go to Pakistan in March 2019.