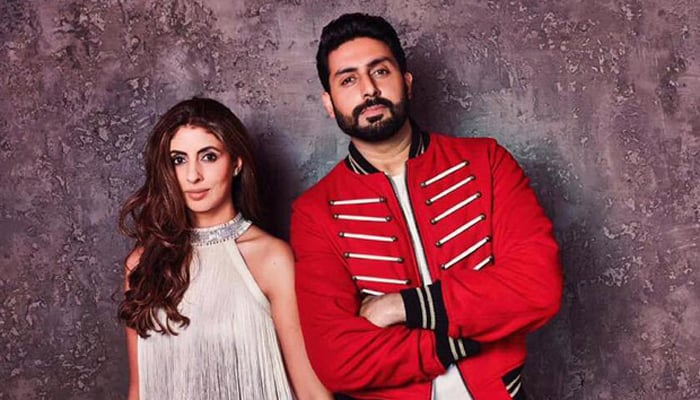 Bollywood actor Abhishek Bachchan and his sister Shweta Bachchan Nanda appeared on the latest episode of 'Koffee With Karan' hosted by Karan Johar.
The show began with Karan sharing that the three have been friends since they were children and used to hang out together at birthday parties with other celebrity kids like Hrithik Roshan, Aditya and Uday Chopra, Zoya and Farhan Akhtar among others.
Karan then asked Abhishek and Shweta who their parents' favourite child is. While Shweta said Abhishek was their mother, Jaya Bachchan's favourite, Abhishek said Shweta was their father, Amitabh Bachchan's dearest.
The host and filmmaker then asked Abhishek about the two-year hiatus he took from acting before starring in Manmarziyaan last year. Abhishek said he had grown too complacent and comfortable about his work. "I didn't come into the film industry — firstly if I may say so with all respect to all my co-stars — I didn't come to stand behind anyone. It's heartbreaking for any actor who has been on the centre stage, in the middle of the shot (be told) 'Ek min zara (gestures to move aside with a hand)'. It's very difficult to digest," he said. Abhishek, however, called the hurt and humiliation important.
"The industry is a brutal place. I don't think anybody is entitled to just say 'Oh I'm who I am so I deserve this.' No. You've to earn your place," he added.
Karan also asked Shweta if all the pressure on her brother made her push her own children away from taking up acting as a profession. "I also know the heartbreaks and I think I know it really, really well. I see their faces when things don't work out. I'm there on a human level. I am on Instagram, I see the amount of hate and trolling he gets. And whether or not you like him as an actor, or you think that he has had it so easy because he is Amitabh Bachchan's son, whatever it is, I'm his sister. I'm going to react to him as a sister. And I hate it, it gives me sleepless nights. I don't want yet another member of my family to be in this business because of a selfish reason," she said.
Shweta also said that she doesn't know if her daughter Navya even has a talent for acting. "I feel if she isn't passionate, driven, talented, she has no business being here," she added.
Karan also asked Abhishek about what it is like to live under the constant pressure and expectations that come from being Amitabh Bachchan's son. "It's very difficult Karan. I've never said this but it is," he said. Abhishek added that he does seek validation from his father but doesn't know how to react on the rare occasions that he says good things about his performances.
When Karan asked them how the family dynamics changed when Aishwarya arrived in the house, Abhishek said there was no change. Shweta said that roles reshuffle in a family whenever someone new arrives. Further, Shweat said that she feels relieved that Abhishek has someone who understands his work life.
In the rapid fire round, Karan asked Shweta and Abhishek to reveal what they love and hate about Aishwarya.
Shweta said she loves Aishwarya for being a "self-made, strong woman and a fantastic mother" and hates her for not calling back on time.
On his turn, Abhishek said he loves Aishwarya because she loves him and hates her packing skills. He also said he would not like to change anything about his relationship with her.