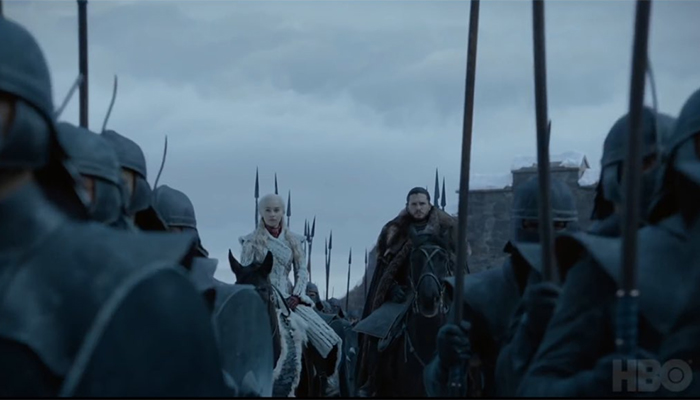 After what seemed like an eternity, HBO finally dropped the trailer for the eighth and final season of Game of Thrones on Monday night, and boy oh boy it was worth the wait.

Released with a simple message on their Twitter account, "the trailer is here," the two-minute trailer opens with Arya Stark breathing heavy in darkness, speaking of the oncoming threat from the White Walkers and the army of the dead.
"I know death. He's got many faces," Arya says. "I'm looking forward to seeing this one."
The teaser also offers glimpses of other major characters on the show, including Jon Snow and Daenerys Targaryen preparing battle at the Stark's stronghold.

The trailer shows Jon brooding and talking about "our enemy," while Sansa Stark acts steely and determined. Tyrion Lannister looks stressed and concerned, while his sister Cersei drinks wine and schemes. Also, Tormund is alive!
Not only is Tormund around to battle the White Walkers, but Gendry is back with his hammer.

The seventh season of Game of Thrones ended with the revelation that the White Walkers now have their own dragon, which is sure to wreak havoc on the people of Winterfell. It's a fight that Jon tried to warn Cersei about during last season, but she made it abundantly clear that she wasn't interested in helping him defend the kingdom if he wasn't ready to bow down to her as Queen.
Game of Thrones season eight returns on April 14.

Check out the trailer below.