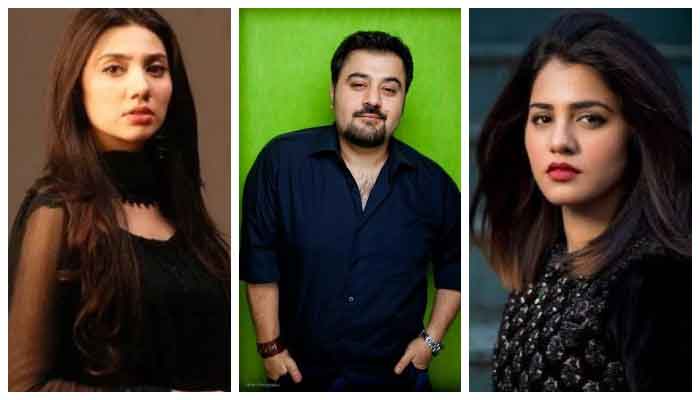 While the vast majority of conversations regarding the Aurat March, slated for Sunday, have been positive and celebratory, there were, nonetheless, a few exceptions.
Not everyone it seems is rallying around the necessary and long overdue movement for women's rights in Pakistan. There were, of course, the predictable opponents - conservative politicians and celebrities - and then there were the unexpected detractors.
Related: Geo Entertainment suspends Khalil-ur-Rehman Qamar's contract

Here are some of the most surprising reactions to the Aurat March and the slogan "mera jism, meri marzi", which was displayed on a placard at last year's protest.
Ahmed Ali Butt
The actor and singer in a recent Instagram story called the slogan "a western campaign which supports to make abortion legal, abolish ban on organ sale, and make prostitution legal."
Butt then also insisted that his fans Google the term, which would ostensibly prove his point. "It is sad," he wrote that people are following "a funded movement."
We Googled it, and we are not too sure what the actor is referring to.
'When did Aurat March organisers speak against Islam?' wonders IHC chief justice

Quratulain Balouch
The singer wrote on Twitter that a "real feminist gets down to work and wastes no time shouting for her 'rights'" (sic).
Many female fans of Balouch expressed their disappointment with the singer's stance on social media. One women reminded the singer that her success was "built upon a foundation of women before you [who] struggled."
Mahira Khan
While Mahira Khan has been unequivocally supportive of the Aurat March, and vehemently defended women who came under fire last year, her request to the organizers of the March to be "careful with their words and slogan" did not sit well with many women.
Read also: Bilawal says no one can stop Aurat March from happening

In her Twitter post she asked if women could instead "hold banners of laws we would like to be put into place and those that have harmed women over the years? Don't we want as many people as possible to understand why we march?"
However, journalist Farieha Aziz pointed out that "oppression has many forms. The privilege and rights enjoyed today is the result of struggle of those who instigated and provoked society."
Khan later agreed with Aziz and wrote back that she stood corrected.
The Aurat March organizers have on numerous occasions explained what the slogan "mera jism, meri marzi"means: