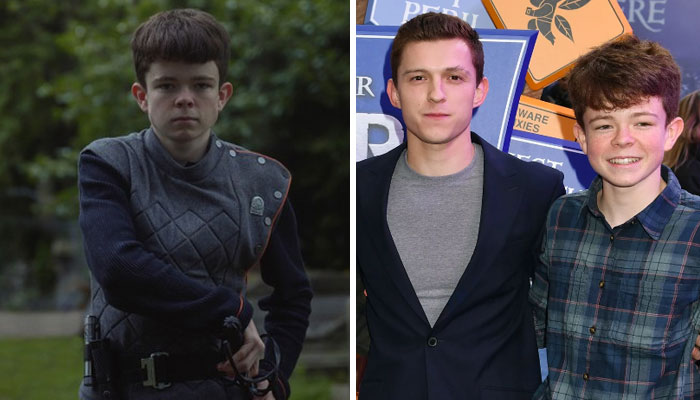 Netflix just released its newest supernatural series, Lockwood & Co, which is an adaptation of Jonathan Stroud's YA book series.
The series also features Tom Holland's 18-year-old litter brother Paddy Holland.
The Spiderman actor took to Instagram to congratulate his "not-so-little brother" on the series.
He captioned the a video clip from the promotional video, "Head to Netflix to check out Lockwood & Co starring my not so little brother, @paddyholland2004 . So proud of you Padstaman. Can't wait to watch it and congrats to everyone involved."
Lockwood and Co is just a story of three very awkward teenagers and their friendship. Set in London, the story follows the most gifted teenage ghost-hunters who venture into dangerous combat with deadly spirits, amidst the many corporate, adult-run agencies, one stands alone: independent of any commercial imperative or adult supervision – a tiny startup, run by a renegade trio destined to unravel a mystery that will change the course of history: Lockwood & Co,
The eight-episode Netflix adaptation features actress Ruby Stokes (who plays Francesca in Bridgerton season 2). Stokes plays Lucy Carlyle, a newly arrived, psychically gifted young girl who, along with her partners, runs a psychic detection agency in London, per Digital Spy.
Other cast members include newcomers Cameron Chapman as Anthony Lockwood and Ali Hadji-Heshmati as George Karim (Cubbins in the book series). While Anthony runs the agency in the books, the show has chosen Lucy to lead the crew instead. Moreover, actors Ivanno Jeremiah, who stars as Inspector Barnes, Luke Treadaway as The Golden Blade, and Morven Christie as Penelope Fittes. Jack Bandeira is set to play Quill Kipps, and Ben Crompton will portray Julius Winkman. Hayley Konadu has joined the show as Flo Bones, Paddy Holland stars as Bobby Vernon, and Rhianna Dorris plays Kat Godwin.