Pakistani actress Ushna Shah, who recently tied the knot with Pakistani golfer Hamza Amin on Sunday, apologised to critics who said that the actress was promoting Indian culture. 
Soon after her wedding pictures were uploaded on social media, Ushna became a target of online trolling with people criticising her bridal dress and for dancing at her own wedding. 
The actress, taking to Instagram, said: "I haven't reacted to online trolling for years, but I am a human being at a very vulnerable time of my life. A new bride in a new home."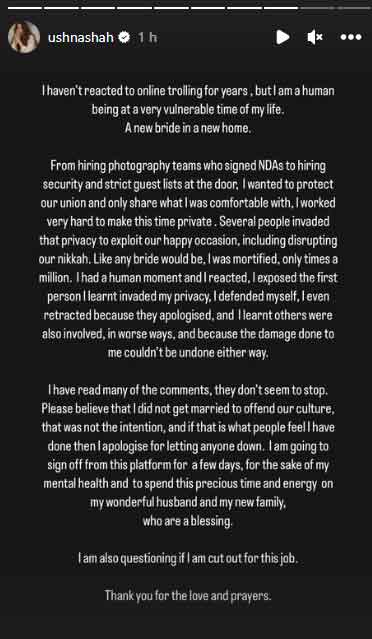 Expressing her anger and sadness over the trolling and privacy breach at her wedding, Ushna said: "From hiring photography teams who signed NDAs to hiring security and strict guest lists at the door, I wanted to protect our union and only share what I was comfortable with, I worked very hard to make this time private. Several people invaded that privacy to exploit our happy occasion, including disrupting our nikkah."
She said that she was mortified as any bride would be, adding that she had a human moment and she reacted. "I exposed the first person I learnt invaded my privacy, I defended myself, I even retracted because they apologised, and I learnt others were also involved, in worse ways, and because the damage done to me couldn't be undone either way." 
Ushna further said that she did not get married to offend Pakistani culture as it was not her intention to do so. "If that is what people feel I have done then I apologise for letting anyone down."
She announced that she will not be using Instagram for a few days for her mental health. She added that she wants to spend this time with her husband and new family.
"I am also questioning if I am cut out for this job," she wrote.